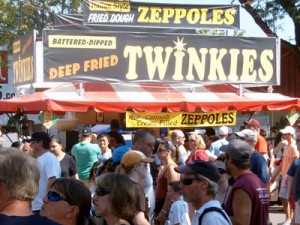 It only comes around once a year. For some it is a tradition they share with family & friends that  spans back as long as they remember. Some people take days off work to attend. We are talking about the State Fair of course and it starts today! Many states have an annual fair and the Minnesota State Fair is one of the largest in the country with over 1.6 million people attending each year.
While the MN State Fair's history goes all the way back to 1859, the focus of the fair has changed drastically since those times.  From the State Fairs website they describe the fair as this : "The character of early fairs was dominated by agricultural exhibits and competitions, reflecting its original purpose of encouraging farming in the state. While agriculture is still the primary focus, the scope of activities has broadened to include large-scale entertainment features, technological and industrial exhibits and scores of education and government institutions."
Now, I understand that there are animals and attractions and entertainment at the fair, But let's be HONEST! The real reason, and the most "talked about" aspect of the fair is the FOOD! Every year there is the "NEW" food being introduced. Likely something on a stick. One year it was the Fried Candy Bar on a stick. Then, the fried Bacon on a stick, Deep fried Chocolate Chip cookie dough, and this year- Bacon Ice Cream! Ok, so if your stomach is growling, rather than turning, fom this list we wanted to give you some things to think about so you can go into this year's state fair with a bit of education.  I know it is a once a year event and there are more food vendors than you could possibly even get to  if you spend all 10 days at the fair.
The important thing in any situation is MODERATION. Below, we've given you some nutrition estimations from a local nutritionist so you can get an idea of what your favorite foods will set you back.  If you look at this list and a jumbo corn dog from the state fair is going to make your whole experience complete, well then go ahead and have it! At 375 calories it's not the healthiest lunch, but it's not going to sabotage all your efforts of maintaining (or losing) weight.  However, if you go to the fair and have to get the cheese curds along side of the corn dog, AND the mini donuts or milkshake or that "oh-so-healthy" sounding Candy Bar on a Stick…..then you are going to be in some trouble. And, you'll likely have a belly ache for the day.
Our suggestion is this:  Take a look at the following list. Pick out the foods that are your absolute favorites. If it's more than 2 things, share the item with several people or choose to only sample one or two bites.   
It's no secret that in the American culture, food is typically a big part of our social experience.  Take some time to enjoy the other aspects of the fair. The great people watching , the games, rides, the agriculture exhibits, the entertainment and make it an opportunity to get some exercise as you take it all in and walk for miles.
Now, here are the details: Do with them what you will and go into the fair this year with a healthy attitude and a game plan!
Nutrition information for State Fair foods- the most popular first:
Fried cheese curds–850 calories for a smaller container (the 7 oz container has 1,140 calories)
 Mini Donuts–650 calories (~55 calories/donut)
 Roasted sweet corn–200 calories
Dairy Barn Shake–650-800 calories
Estimated nutrition information for select foods at the State Fair.*
 Food Calories Fat (g) Fat calories Carbs (g) Carb calories Sugar (g)
 Candied apple 332 1 5 87 348 –
 Caramel apple 298 1 9 74 294 –
 Cheeseburger 551 36 324 25 100 –
 Chicken strips (4 strips) 445 21 189 33 132 –
 Cinnamon roll 730 24 216 114 456 –
 Corn dog (jumbo) 375 21 189 36 144 10
 Corn dog (regular) 250 14 126 23 92 6
 Cotton candy 171 0 0 45 171 45
 Deep-fried Snickers (5 oz.) 444 29 261 42 168 –
 Deep-fried cheesecake (6 oz.) 655 47 423 56 224 –
 Deep-fried macaroni and cheese 600 35 316 60 240
Deep-fried Oreo 98 6 51 11 44 –
 Deep-fried pecan pie 800 60 540 70 280
Deep-fried Twinkie (2 oz.) 420 34 306 45 180 –
 Corn on the cob (8 in. ear) 201 1 9 42 168 –
 Egg roll (6 oz.) 400 19 171 44 176 –
 Elephant ear (2.9 oz.) 310 15 135 38 152 13
 French fries (7 oz.) 560 24 216 79 316 –
 Hot dog, plain, with bun (footlong) 470 26 234 41 164 –
 Hot dog, plain, with bun (regular) 214 14 126 28 112 –
 Onion mum 1320 72 648 140 560 –
 Fried shrimp (5 oz.) 555 30 270 36 144 –
 Fudge (1.5 oz.) 199 11 99 25 100 25
 Funnel cake 760 44 396 80 320 16
 Ham biscuit 440 26 234 36 144 –
 Ice cream cone (large) 934 54 486 96 384 –
 Ice cream cone (small) 774 42 378 83 332 –
 Kettle corn (7 cups) 490 12 110 70 280 14
 Nachos with cheese 861 59 531 70 280 –
 Pizza, pepperoni (7 in.) 794 35 315 80 320 –
 Popcorn, no extra butter (7 cups) 400 27 243 30 120 –
 Snow cone w/ 3 oz. syrup 270 0 0 68 270 –
 Soft pretzel (4.5 oz.) 340 2 18 70 280 16
 Turkey leg 1136 54 486 0 0 –