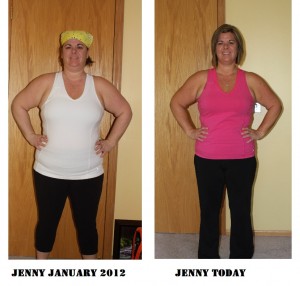 This is Jenny Flynn. Jenny is a wife, a mother, a daughter, a good friend, a photographer, a healthcare worker, a former athlete and many more things.  In the past 8 months Jenny Flynn has also become a person COMMITTED to changing her health for the better and she fights every day to make her dream of losing 90 lbs a reality.  I had the privilege of sitting down with Jenny last week to talk to her about her life, her past, and what made her decide to change her life and what motivates her to keep on going even when she hits a plateau.  If you, or anyone you know, has ever struggled to lose weight you will find her story inspiring and a real world account of what it takes to go after something you really want and how to deal with the "bumps in the road".
Kelly: Tell me a little about your childhood
Jenny: I grew up in Minnesota with my mom, dad, brother and sister. Although for as long as I remember I was an athletic kid, I did feel like I was somewhat heavier than my friends, I didn't really feel "Fat" but just that I was "bigger". Most of my family was overweight so at home I felt more normal than I did around my group of friends.  While I played softball and volleyball thru middle school and high school I had the worst diet ever. Fresh meals were not prepared at my house and I'm not sure I ever ate a vegetable. I'd typically have cereal for breakfast, hot lunch at school and then relay on vending machine candy bars and mountain dew for my energy during the day. I can think back on those days and distinctly remember energy highs and lows from all the sugar and caffeine I was eating and lack of nutritious foods, but I didn't know any better. My senior year I ended up with a sports related injury and couldn't play. It was a stressful time for me and with school and college pressure I started emotional eating. Things got a little better for a time in college, but after quitting sports early on I had nothing to keep me accountable, or active. Like many, I turned to drinking and eating and gained over 35 lbs. by the time I graduated college.
Kelly: So, now you are into adult hood and how did you view your health at this point?
Jenny:  My weight stayed about the same for a number of years after I was married but I can honestly say that my eating habits were horrible. Again, I didn't grow up eating vegetables so I never even knew how to cook them for myself and thus I relayed on processed, packaged, convenient foods.  Then, there were a string of events in my life that caused me to fall even further from the path of good health. I had a very complicated pregnancy where delivery left my close to death and I suffered post-partum depression.  Then, 2 years later my father passed away which just shattered me as he had always been my rock , the one to pump me up, and gave me tons of confidence. However, I have always been one to keep my emotions to myself so I never really allowed myself time to grieve. Soon after that I got pregnant again with my son which sent me again into a pregnancy filled with sickness and health issues. Not only did I have my second C-section, but I had to get my gall- bladder removed very soon after his birth.  While my children have been such a blessing in my life, things were over shadowed by my father's death and also the fact that I knew something was wrong with my health. I started waking up in the middle of the night with migraine headaches; I was depressed, and became terrified when I started noticing heart palpitations fairly regularly. I spent countless days and tens of thousands of dollars at the doctor, knowing I was on the verge of Diabetes as well.
Kelly: is this when everything changed for you?
Jenny: YES! I would say this was my rock bottom. I remember the doctor saying that I could have heart surgery to fix the palpitations, I could go on medication or I could live with it. In his mind, those were the options. Thankfully, my sister had been taking a nutrition course for the past several months and suggested I join her to learn more about what I was putting in my body.  It was amazing learning about food and nutrition and how the things we eat affect everything from our mood, and energy as well as our weight. About the time I started paying attention to my foods, a friend of mine asked if I wanted to buy a daily deal for a boot camp class. I thought she was CRAZY! I hadn't worked out in YEARS and it was the last thing I felt comfortable doing. For some reason, she was so persistent and didn't take no for an answer so I bought it. She went the first day without me and told me that everyone was really nice and that I'd like it.  I remember driving there the first day thinking that I would feel so self-conscious, just like I did at the gym. I was actually amazed that I felt the exact opposite in class. Everyone was very supportive and I actually felt comfortable. I even noticed some of my competitiveness coming out and I wanted to get better and do more each time. By the end of my first month I was hooked, it was like someone breathed life back into me and I wanted more of that feeling.
Kelly: tell me about your progress so far..
Jenny: Since January I have lost 49 pounds and my whole body looks so much better, fitter, stronger, and healthier. I have dropped my cholesterol over 100 points which I am just shocked at! And everyone that sees me and knows me can tell how much I've changed. Mentally I'm changing every day too. I have more confidence than I had 8 months ago and I believe I can get thru more things these days.
Kelly: why is it working for you this time?
Jenny: from the moment I walked in the door (at Altman Fitness Boot camp) I felt comfortable, like this is not some high testosterone gym where everybody judges everybody. Jay and Ryan made me feel comfortable for who I was and what fitness level I was currently at. They did not look at the 240lb Jen, they saw someone that was looking for help and showed me compassion and understanding and that there is hope. The very first week Ryan made me squat lower, lower and yet lower. "I said I can't" and he looked at me in the eye and said  "GIRL, Yes you can!" I knew he meant it and I have trusted him from that day forward.  The members have made me feel so welcome and over the months have become a wonderful support system for me, they feel like family. Throughout my journey I have been educated by one of the best teachers I have ever come across. Jay has an unbelievable knowledge and understanding of how the human body works, not just body but mind and spirit as well. Jay has used the right amount of encouragement, whether it was breaking me down (probably a better word for that) and then building me back up at exactly the right time.  Jay knows how the human spirit works and that is truly valuable.
Altman Fitness has been life changing and life saving for me. I have spent thousands of dollars over the past three years, we are talking 10-15,000.00 on Dr. appointments to figure out what is wrong with me, only to hear the medical community tell me it was stress and I should de-stress. What the medical community is missing: education, compassion, knowledge.   In   7 months Altman Fitness has completely changed my cholesterol level, blood pressure, joint pain, all over myofacial pain, heart palpitations, mood swings, depression, chronic bowel issues, blood sugar problems, pre-diabetes, sleep disturbances, acne, dry skin and scalp, head aches, and the list goes on!!!  This type of change is priceless. So thank you to Jay, Kelly, Ryan and Altman fitness for helping me achieve what I never thought I could and I am so excited and encouraged to see what the next 7 months brings!!!
Kelly: What keeps you going?
Jenny:  it's really hard sometimes. I'm not going to lie. I've hit a plateau for almost 2 months and it's really emotionally draining. Sometimes I feel like I want to quit.  But, I think of my husband and my kids and how I want to be that mom that can go out and play with my kids and not get winded or ache the whole time.  My daughter reminds me of my journey because she always comments when she hugs me now that her arms go all the way around my waist. That is a HUGE motivation and I know they are so proud of me. Also, I have built such a community of people that are cheering me on- even if I'm not cheering myself on at that particular moment. Facebook has been huge to post my progress as people I rarely see tell me they are inspired by me. That's pretty cool.
Kelly: What do you do when you hit a roadblock?
Jenny: It has happened recently so I am still learning what to do but I try to just stay focused on the end goal, remind myself of the reasons why I am important to take care of and imagine what I will feel like when I succeed. I also reach out to the people that are supporting me. Jay, Kelly, Ryan at Altman Fitness and also my husband and friends. Sometimes I do find that it can take a variety of people just to remind me why this is all worth fighting for, even when the going gets tough.
A big thank you to Jenny for sharing her story. We know there are so many people out there that need to, but are afraid to, take that first step to take charge of their health and change their lives. Jenny is an inspiration to those that know her- and now that you know a bit more about her, we hope she is inspiring you! Stay tuned as we update her story and share her progress along the way.  GO JENNY GO! GO JENNY GO!!