Beef and Broccoli Dinner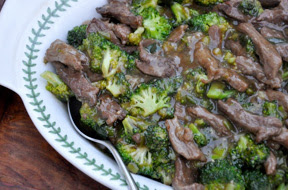 Here's a delicious weeknight dinner recipe that's quick to throw together. With lots of fiber and protein, this is the type of meal that will help make your fitness goals a reality. Servings: 6
Here's what you need…
2/3 cup coconut aminos or low-sodium soy sauce
1 1/2 Tablespoons fresh ginger, minced
4 garlic cloves, minced
1/2 cup filtered water
1/3 cup pure maple syrup, grade b
3 Tablespoons arrowroot starch
2 Tablespoon Olive oil, divided
1 bunch green onions, chopped
4 cups organic broccoli, cut into small pieces
1.5 lbs grass-fed flank, skirt or minute steak, cut into very thin strips
In a medium bowl combine the coconut aminos, ginger, garlic, water, syrup and arrowroot. Set aside.
Heat 1 tablespoon of the olive oil, on high, in a large skillet or wok. Add the green onions and broccoli, sauté for 5 minutes. Remove from skillet.
Heat the remaining 1 tablespoon of olive oil and stir-fry the steak until almost done, about 4 minutes.
Return the veggies to the skillet and add the sauce. Heat until the sauce boils and thickens, about 3 minutes. Serve and enjoy.
Nutritional Analysis: 371 calories, 14g fat, 684mg sodium, 15g carbohydrate, 2g fiber, and 34g protein
Grilled Bok Choy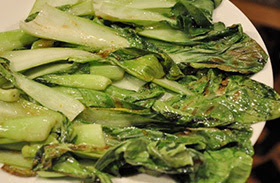 Ready to grill? Throw some bok choy on the BBQ! Bok choy is packed with vitamins A, C and K, as well as beta carotene. This grilled bok choy has tender stems and crispy leaf edges.
Servings: 6 
Here's what you need…
2 lbs bok choy
1 Tablespoons olive oil
1/4 teaspoon garlic salt
1/8 teaspoon paprika
1/8 teaspoon black pepper
1 teaspoon seasoned salt
Preheat grill and lightly oil the grate.
In a small bowl combine the oil and seasonings. Mix well.
Slice the bottom off the head of bok choy, and wash each stem.
Lay bok choy on prepared grill. Brush with the seasoned oil mixture. Cover grill and cook until stems show grill marks, about 4 minutes. Turn the bok choy, brush with more seasoned oil mixture and grill the other side.
Transfer to platter and serve.
Nutritional Analysis: One serving equals: 36.5 calories, 2.6g fat, 3g carbohydrate, 1g fiber, and 2g protein.
Best Spinach Salad Ever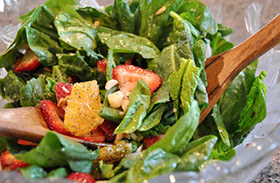 The first thing that you'll notice about this salad is that it tastes amazing. It also doesn't hurt that spinach is an extremely nutrient-dense food. The recipe calls for raspberry vinegar, which is a flavorful and refreshing alternative to traditional, oily dressing. The fruit and nuts add flavor, fiber and healthy fat.
Servings: 8 
Here's what you need:
8 cups cleaned spinach leaves
3 oranges, peeled, sliced and quartered
2 cucumbers, peeled sliced and quartered
1/8 cup macadamia nuts, coarsely chopped
1/8 cup sunflower seeds
2 Tablespoons poppy seeds
1 cup strawberries, sliced or whole raspberries
1/2 cup white balsamic raspberry blush vinegar
Combined the spinach, oranges, cucumbers, macadamia nuts, sunflower seeds, poppy seeds and strawberries in a bowl.
Add the vinegar and toss well.
Nutritional Analysis: One serving equals: 99 calories, 3g fat, 14g carbohydrate, 2.6g fiber, and 3.5g protein.
Mediterranean Lettuce Wrap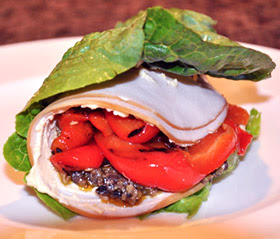 This wrap is savory and refreshing, and is the perfect meal to get you beach ready. I recommend roasting your own bell pepper, since most store bought roasted bell peppers are packaged in oil. To do so simply throw it on the grill until soft and then peel the skin after it cools. Servings: 1 
Here's what you need…
1 large leaf of lettuce
2 slices lean turkey
1 roasted red bell pepper, cut into 4 segments
2 tablespoons garlic hummus
1 tablespoon olive tapenade
Lay the lettuce leaf flat and spread with 1 tablespoon of hummus. Place the turkey slices on the lettuce and spread with remaining hummus. Sprinkle the olive tapenade over the turkey and top with the roasted bell pepper.
Wrap the lettuce, use a tooth pick to hold it together.
Nutritional Analysis: One serving equals: 170 calories, 6g fat, 15g carbohydrate, 5g fiber, and 15g protein.
Fruit Medley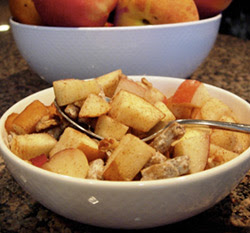 Craving something sweet? This recipe is the perfect summer dessert. If you don't have nectarine or pear on hand, be creative and use other fresh fruits. Servings: 2
Here's what you need…
1 white nectarine, chopped
1 pear, chopped
1 Tablespoon chopped pecans
1 Tablespoon chopped dates
Dash of cinnamon
Mix the nectarine, pear, pecans, and dates in a medium sized bowl. Sprinkle with cinnamon and mix until well coated.
Nutritional Analysis: One serving equals: 119 calories, 3g fat, 24g carbohydrate, 4.5g fiber, and 1.5g protein