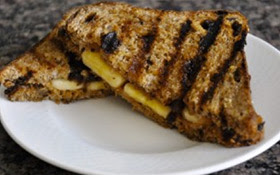 Not all PB&J sandwiches were created nutritionally equal. It all depends on the quality of the ingredients that you use.
If you use white bread, corn syrup-filled peanut butter and refined sugar-filled jelly, the result would be a sandwich that will skyrocket your blood sugar, promotes fat storage and leaves you feeling hungry a short time later.
However, if you make this recipe, with sprouted grain bread, wholesome almond butter made from one ingredient: almonds, and fruit preserves that are naturally sweetened with fruit juice rather than sugar, then the result would be a nutritionally dense food that would promote stable blood sugar levels and provide you with hours of sustained energy.
Your kids will love the fun twist of having their sandwich grilled and stuffed with banana slices!

Servings: 1 

Here's what you need:
Sprouted grain bread
1 Tablespoon pure almond butter (no added sugar or corn syrup)
1 Tablespoon natural fruit spread (no added sugar or corn syrup)
1/2 of a banana, sliced
Spread one piece of bread with almond butter and the other with fruit spread. Line one side with the sliced bananas and sandwich it.
In a grill pan over medium heat, grill each side until grill marks appear and the sandwich is warmed.
Nutritional Analysis: One serving equals: 380 calories, 8.7g fat, 53g carbohydrate, 9g fiber, and 13.2g protein.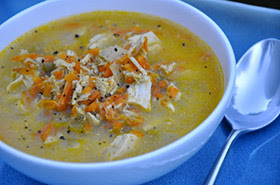 This chicken soup recipe is made without added carbs like noodles or potatoes. It's filled with fiber, protein and lots of delicious flavor. Enjoy! Servings: 8
Here's what you need…
1 Tablespoon coconut oil
1 medium organic yellow onion, chopped
3 carrots, grated
2 celery stalks, finely chopped
1 Tablespoon curry powder
2 garlic cloves, crushed
2 quarts chicken broth
3 cups diced roasted chicken
1 bay leaf
1 organic apple, chopped
dash of salt and pepper
1/2 teaspoon dried thyme
zest from 1 lemon
2 cups unsweetened coconut milk
In a large pot, over medium heat, melt the coconut oil and add the onion, carrots and celery. After 5 minutes add the garlic and curry powder.
After a couple minutes add the chicken broth, chicken, bay leaf, apple, pepper, thyme, and lemon zest. Stir well. Bring to a simmer and cook for 40 minutes.
Stir in the coconut milk, and some salt if desired, remove the bay leaf and serve.
Nutritional Analysis: One serving equals: 166 calories, 5g fat, 175mg sodium, 9g carbohydrate, 2g fiber, and 19g protein
Honey Grilled Chicken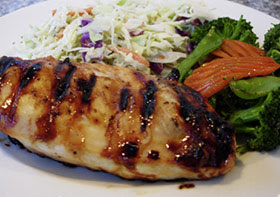 Desirable abs are made in the kitchen, just as much as in the gym. In order to flatten your stomach, enjoy lean meals like this Honey Grilled Chicken. Lean, high protein chicken breast is best paired with veggie sides for phenomenal results.Servings: 6
Here's what you need…
4 Tablespoons honey
4 Tablespoons spicy mustard
1 teaspoon grated lemon peel
2 teaspoons low-sodium soy sauce
1/2 teaspoon minced garlic
6 boneless, skinless chicken breasts
Pre-heat your grill. If using coals, heat until the coals turn gray and there are no longer strong flames, 35-45 minutes.
Combine honey, mustard, lemon peel, soy sauce and garlic. Mix well. Reserve a few tablespoons of the sauce. Add chicken and marinate in the refrigerator for 40 minutes.
Cook the chicken 5 to 6 minutes per side. Brush with the reserved sauce, and continue cooking for an additional 3 to 4 minutes per side, until chicken registers 170 degrees F on a meat thermometer.
Nutritional Analysis: One serving equals: 183 calories, 2g fat, 13g carbohydrate, 0g fiber, and 28g protein.
Turkey Spinach Salad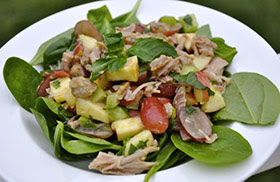 Here's a quick and flavorful salad that makes a wonderful fitness meal. It's filled with fiber, protein and satisfying flavor. Use the dressing recipe below whenever salad is on the menu for dinner. Servings: 4
Here's what you need…
2 cups shredded roasted turkey
1 organic apple, chopped
2 organic celery stalks, chopped
1/4 cup fresh mint leaves, finely chopped
1 cup organic, red grapes, halved
4 cups baby spinach
Salad Dressing:
1/4 cup olive oil
1/4 cup fresh squeezed orange juice
1 Tablespoon orange zest
Stevia to taste
1 Tablespoon Dijon mustard
Dash of salt and pepper
In a small bowl whisk the olive oil, orange juice, orange zest, stevia, Dijon, salt and pepper.
In a medium bowl combine the turkey, apple, celery, mint and grapes. Toss with the dressing.
Prepare each plate with a pile of spinach. Top with the turkey salad mixture.
Nutritional Analysis: One serving equals: Calories: 289 Fat: 15 g Carbohydrates: 13 g Sodium: 795 mg Fiber: 2 g Protein: 25 g
Ham, Almond Butter & Apple Wraps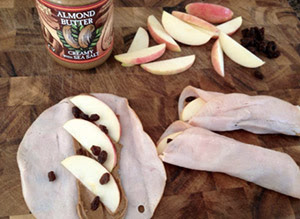 Here's a quick, tasty snack that's big on protein and fiber and low on carbs and sugar. Take a few of these delicious ham wraps to work with you, and enjoy as a power snack – rather than turning to the vending machine. Enjoy!Servings: 2
Here's what you need…
4 ham slices
1 small apple
3 Tablespoons almond butter
1 Tablespoon raisins
Assemble the ham slices with a smear of almond butter, a few apple slices and a sprinkle of raisins. Roll up and enjoy!
Nutritional Analysis: One serving equals: 138 calories, 8g fat, 9g carbohydrate, 2g fiber, and 8g protein.