Curried Cauliflower
​This dish is filled with tender cauliflower, nutrient-dense spinach, sweet pickled pimento peppers, and plump garbanzo beans all swimming in a creamy, dreamy curry sauce. With a flavor this deep and satisfying, you may forget that it's filled with all wholesome ingredients. Enjoy!Courtesy of
RealHealthyRecipes.com
Servings: 16
Here's what you need
2 heads cauliflower, chopped into florets
2 Tablespoons olive oil
1 large yellow onion, chopped
1 Tablespoon garlic, minced
3 Tablespoons curry powder
1 (15oz) can garbanzo beans, drained and rinsed
½ cup chicken broth or vegetable broth
5 oz bag of fresh baby spinach
1 (13.66oz) can coconut milk, full fat
½ cup pickled sweet pimento peppers, chopped
2 Tablespoons lime juice
1 teaspoon sea salt
½ teaspoon red pepper flakes
Instructions
Bring a large pot of water to boil. Add the cauliflower florets and boil for 8 minutes, until fork tender. Drain and set aside. Wipe out the pot.
Return the pot to medium-high heat. Add the olive oil, onion and garlic. Cook until soft, about 5 minutes. Add the curry powder and cauliflower florets and continue to cook for 2 minutes.
Add the garbanzo beans, chicken broth, spinach, coconut milk, pimentos, lime juice, salt and red pepper flakes. Mix well and reduce to low heat, cover and simmer for 10 minutes. Enjoy!
Nutritional Analysis
One serving equals: 185 calories, 8g fat, 17g carbohydrate, 4gg sugar, 169mg sodium, 7g fiber, and 8g protein.
Oregano and Lemon Roasted Chicken Thighs
Here is a chicken dish that is great to make on busy weeknights. It's quite simple, yet yields tremendous flavor with very little effort on your part. While many chicken dishes turn out dry, these bone-in, skin-on chicken thighs come out moist and tender every single time!
For the olive mixture, feel free to use a combination of whatever olives and roasted peppers and garlic that you like. If your market has an olive bar, then that's the perfect place to put together a nice sampling of flavors to use for this recipe. Enjoy!
Courtesy of RealHealthyRecipes.com
Servings: 4
Here's what you need
2 Tablespoons coconut oil
1 Tablespoon olive oil
2 Tablespoons fresh oregano, chopped
2 teaspoons fresh garlic, minced
½ teaspoon sea salt
½ teaspoon sweet paprika
¼ teaspoon black pepper
4 bone-in, skin-on chicken thighs
1 cup combination of roughly chopped pimento stuffed green olives, kalamata olives, pimentos and roasted garlic (or whatever looks good at your local olive bar!)
1 lemon, cut into 8 wedges
Instructions
Preheat the oven to 400 degrees F.
Combine the coconut oil, olive oil, fresh oregano, garlic, sea salt, paprika and pepper. Place the chicken thighs skin side up in a casserole pan, and spread the flavor mixture over the skin. Roast for 30 minutes.
Sprinkle the olive mixture and lemon wedges over the chicken and return to the oven to roast the thighs until the skin is crisp and a thermometer registers at 165 degrees F in this thickest part of the thigh, about 20 more minutes. Switch the oven to high broil for 2 to 3 minutes at the very end of the cook time to crisp up the chicken skins. Garnish with fresh oregano. Enjoy!
Nutritional Analysis
One serving equals: 353 calories, 22g fat, 4g carbohydrate, 0g sugar, 625mg sodium, 3g fiber, and 34g protein.
Squash and Fennel Salad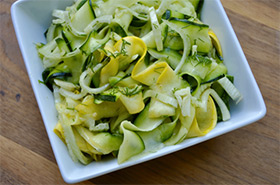 This salad wins the award of the
most refreshing side dish ever!
The combined essence of fennel and lemon give ordinary zucchini extraordinary flavor in this simple, invigorating salad. Consider it your new go-to side dish to enjoy with grilled steak or chicken.
Here's another flavorful reason to ask more from your side dishes. Do you really need traditional, grain-filled noodle salads when it's possible to create a veggie noodle salad like this instead? This one tastes better and is better for you…one bite and you'll see what I mean.
Courtesy of RealHealthyRecipes.com
Servings: 4
Here's what you need
For the Squash and Fennel Salad
2 green zucchini
1 yellow squash
1 fennel bulb and fronds
1 teaspoon coarse salt
For the Lemony Dressing
2 Tablespoons olive oil
1 Tablespoon lemon juice
½ teaspoon lemon zest
½ teaspoon garlic, minced
2 Tablespoons fennel fronds, minced
sea salt and black pepper to taste
Instructions
Use a veggie peeler to turn the zucchini and squash into long, flat noodles. Cut the fennel bulb in half, and then slice into thin half moons.
Throw the squash noodles and fennel slices into a large colander and sprinkle with the coarse salt. Mix the salt into the veggies and let sit for 20 minutes over a plate. Squeeze the veggies gently to release excess water and transfer to a salad bowl.
In a small bowl combine the dressing ingredients. Toss the dressing with the veggies and chill until serving. Enjoy!
Nutritional Analysis
One serving equals: 81 calories, 7g fat, 5g carbohydrate, 2g sugar, 489mg sodium, 2g fiber, and 1g protein.
Greek Stew
​Butter beans and Kalamata olives make this hearty stew a memorable one. It's important to season the pork well before browning it, so get crazy with the seasoning. Remember that it's going into a big pot of soup so the flavor won't be overwhelming once it's swimming in broth with the other ingredients.You could certainly play around with the protein used in this stew – next time I plan on using good 'ol chicken breast. And it's also possible to omit the meat if you'd prefer.
Courtesy of RealHealthyRecipes.com
Servings: 8
Here's what you need
1 tablespoon olive oil
1 yellow onion, diced
1 tablespoon garlic, minced
8 ounces pork tenderloin, trimmed, cubed and seasoned with sea salt, black pepper and dried oregano ¼ cup white wine
4 cups chicken broth
1 (8 ounce) can tomato sauce
1 vine-ripened tomato, seeded and diced
¼ cup Kalamata olives, pitted and sliced
2 cups chopped fresh spinach
1 (15 ounce) can butter beans, drained and rinsed
1½ teaspoons sea salt
black pepper, to taste
Instructions
Place the oil in a large pot over medium heat. Add the onions and cook until softened, about 4 minutes. Add the garlic and cook for a minute. Add the pork and cook until browned, about 5 minutes.
Deglaze the pot with wine, scraping up any browned bits. Cook until the wine is nearly evaporated. Stir in the broth, tomato sauce, tomato, and olives. Increase the heat to medium-high and bring to a boil. Reduce the heat to medium-low and simmer for 10 minutes.
Stir in the spinach and beans until the spinach is wilted and season with salt and pepper. Enjoy!
Nutritional Analysis
One serving equals: 123 calories, 4g fat, 9g carbohydrate, 3g sugar, 1134mg sodium, 3g fiber, and 12g protein.
Chicken Pot Pie Soup
​Who doesn't love Chicken Pot Pie? Creamy, hearty chicken soup wrapped up in a warm flaky crust…it sounds dreamy, but it's actually a nutritional nightmare! Not only are there far too many carbs and calories in the crust, but the soup itself is often filled with heavy dairy products and noodles that make weight gain automatic.I have a lightened up this recipe for Chicken Pot Pie Soup that gives you the same flavors and comfort of Chicken Pot Pie, while keeping you on track with your fitness and fat loss goals. Enjoy this warming recipe on chilly day!
Courtesy of RealHealthyRecipes.com
Servings: 16
Here's what you need
1 tablespoon coconut oil
2 yellow onions, diced
3 stalks celery, sliced
2 teaspoons Garlic, minced
¼ cup coconut flour
½ cup white wine
6 cups chicken broth
2 cups Butternut Squash, peeled and cubed
2 cups sweet potato, peeled and cubed
3 sprigs fresh thyme
1 tablespoon poultry seasoning
1 bay leaf
3 cups roasted chicken, chopped
2 (14 oz.) cans coconut milk, full fat
1 cup Pearl Onions, halved
1 Green Zucchini, diced
¼ cup fresh Italian parsley, chopped
1 tablespoon lemon juice
salt and pepper to taste
Instructions
Melt the coconut oil in a soup pot over medium-low heat. Add the onions, celery and garlic. Cover and cook for 5 minutes.
Stir in the coconut flour and cook for 2 minutes. Stir in the wine and cook until evaporated. Stir in the broth, butternut squash, thyme, poultry seasoning and bay leaf. Bring the soup to a boil over medium-high heat and then reduce to medium. Simmer the soup until the butternut squash and sweet potatoes are tender, 10-15 minutes. Discard the thyme and bay leaf.
Add the chicken, coconut milk, pearl onions, diced zucchini, parsley and lemon juice. Season to taste with salt and pepper and simmer for another 5 minutes. Serve hot and enjoy!
Nutritional Analysis
One serving equals: 227 calories, 15g fat, 11g carbohydrate ,4g sugar, 329mg sodium, 3g fiber, and 12g protein.