Simple Turkey Soup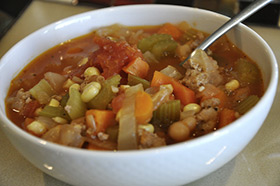 Make this wholesome, quick meal at home tonight. It's high in fiber, packed with protein and tastes quite comforting and delicious. Enjoy the leftovers as a quick lunch or as tomorrow's dinner.
Servings: 8
Here's what you need…
2 teaspoons olive oil
2 garlic cloves, minced
1 bunch of carrots, chopped
2 onions, chopped
1 bunch of celery
1 fennel bulb
1.3 lbs lean ground turkey
4 cups veggie broth
1 (14.5oz) can stewed tomatoes
4 ears of corn, kernels sliced off cobb
3 Tablespoons tomato paste
2 teaspoons dried basil
Dash of salt and freshly ground pepper
In a large skillet heat the olive oil. Add garlic. Add chopped carrots, cover for 5 minutes. Add onions, celery and fennel. Sauté until soft.
In another skillet cook the ground turkey over medium heat until fully cooked, stirring often. Drain off excess fat.
Transfer the veggies to large soup pot and add the remaining ingredients, and the cooked turkey. Cover and cook over low heat for 40 minutes. Add extra water as desired.
Nutritional Analysis: One serving equals: 274 calories, 6g fat, 480mg sodium, 34g carbohydrate, 10g fiber, and 21g protein.
Weeknight Turkey Kebabs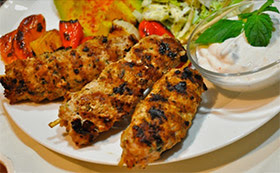 Here's a great recipe for a busy weeknight dinner. Ground turkey breast is mixed Mediterranean spices to create flavorful, protein-packed kebabs. Serve with salad and vegetables and a side of plain Greek yogurt. Servings: 4
Here's what you need…
1 1/2 pounds turkey breast, de-boned, trimmed of skin and cut into thin strips
2 garlic cloves, minced
1 teaspoon olive oil
2 eggs
1/4 cup almond meal (more if needed)
1 teaspoon cumin
1 teaspoon sweet paprika
1/2 teaspoon cinnamon
dash of salt (optional)
2 Tablespoons fresh parsley, finely chopped
1 Tablespoon fresh mint, finely chopped
In a food processor, blend the turkey strips until ground. Add the remaining ingredients and pulse until well blended.
Pre-heat your grill or grill pan.
Lightly grease your hands, then press the meat into the wooden skewers until it covers about 3-4 inches in an elongated meatball shape. If the meat is not sticking then add some more almond meal.
Grill for about 8 minutes per side.
Nutritional Analysis: One serving equals: 254 calories, 8g fat, 156mg sodium, 2g carbohydrate, 1g fiber, and 47g protein
Tropical Salad with Teriyaki Chicken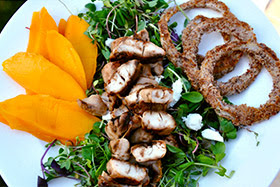 This salad is fun and full of flavor, made with nutrient-packed microgreens, sweet mango, tender teriyaki chicken and guilt-free onion rings. Eat this and give your body the protein it needs as well as a healthy serving of fiber. Servings: 6
Here's what you need…
4 organic, free-range chicken breasts
1/4 cup Organicville Island Teriyaki Sauce
1 large yellow onion, cut into 1/2 inch slices
1 cup almond meal
dash of salt
1/4 teaspoon garlic powder
1 cup coconut milk, full fat
1 omega-3 egg
4 cups organic micro greens or mixed greens
1 fresh, ripe organic mango, sliced
4 Tablespoons organic goat cheese, crumbled
Rinse the chicken breasts. Place in a large ziplock bag with the teriyaki sauce, mix until all the chicken is coated. Place in refrigerator for at least 30 minutes. (Do it overnight for even better flavor!)
Preheat oven to 400 degrees F. Lightly grease a baking sheet with coconut oil.
In a shallow bowl combine the almond meal, salt and garlic powder. In another shallow bowl whisk the coconut milk and egg.
Dip each onion ring in the milk mixture and then coat with the almond meal mixture. Place on prepared baking sheet.
Bake for 20 minutes. Remove from oven, flip each onion ring, then return to oven for an additional 10 minutes.
Heat a grill pan and lightly coat with coconut oil. Place the chicken breasts on the grill pan, and cook 4 minutes each side, until there is no longer any pink in the middle.
Remove chicken from heat and slice.
Prepare each plate with a pile of micro greens, sliced mango, goat cheese crumbles, a few onion rings and then top with teriyaki chicken.
Nutritional Analysis: One serving equals: 366 calories, 2g fat, 268mg sodium, 23g carbohydrate, 4g fiber, and 40g protein
Festive Turkey Burgers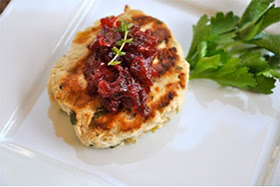 Can't get enough of those holiday dinner flavors? Then you'll love these Festive Turkey Burger patties! No need for a bun, just a dollop of cranberry sauce and it's good to go – protein style. Wrap in a large lettuce leaf if you'd like. Servings: 6
Here's what you need…
2 tablespoons coconut oil
1/2 yellow onion, chopped
1 celery stalk, chopped
1 small green apple, minced
Sea salt and black pepper
1/3 cup blanched almond flour
1 lb ground turkey
2 teaspoons poultry seasoning
1/4 cup flat-leaf parsley, chopped
2 tablespoons Dijon mustard
1 egg
1 Tablespoon olive oil
Cranberry Sauce
Place a large skillet over medium heat. Add the coconut oil, onion, celery and apple. Season with sea salt and black pepper. Sauté for about 5 minutes, until tender. Stir in the almond flour, transfer to a medium bowl.
Mix in the turkey, poultry seasoning, parsley, Dijon and egg. Form 6 patties.
Wipe out the skillet, add the olive oil and cook the patties over medium-high heat for 12 minutes, or until cooked through. Serve with a dollop of cranberry sauce. Enjoy!
Nutritional Analysis: One serving equals: 345 calories, 26g fat, 571mg sodium, 10g carbohydrate, 2g fiber, and 16g protein.