Quinoa Fruit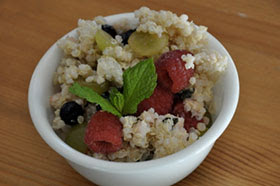 This refreshing summer salad is made with quinoa. Quinoa is a gluten-free, protein- packed seed. It's a complete protein, containing all 9 essential amino acids. Add a side of lean protein to your salad and you've got a highly nutritious, balanced meal. Servings: 6
Here's what you need…
3/4 cup plain non-fat greek yogurt
2 Tablespoons lime juice, divided
1-15 fresh mint leaves, minced
2 cups cooked quinoa
optional dash of salt and pepper
1 cup blueberries
1 cup green grapes, halved
1/2 cup raspberries
1 teaspoon agave nectar
In a small bowl combine the yogurt, 1 tablespoon lime juice and the mint. Pour over the cooked quinoa and mix well. Season with salt and pepper.
In another bowl combine the fruit, agave nectar and remaining lime juice.
Cover and refrigerate each bowl for 2 hours, to allow the flavors to emerge, then combine the fruit with the quinoa and serve.
Nutritional Analysis: One serving equals: 114 calories, 1 fat, 13mg sodium, 20g carbohydrate, 2.5g fiber, and 6g protein.
Savory Broccoli Rabe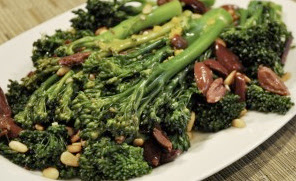 Here's a delicious way to dress up broccoli rabe. Broccoli rabe is a non-heading type of broccoli with long thin leafy stalks that's topped with small florets. It's packed with vitamins A, C and K in addition to potassium, iron and calcium. It also contains phytochemicals that fight cancer and improve your overall health. Servings: 6
Here's what you need:
3 Tablespoons pine nuts, toasted
2 bunches broccoli rabe, stems trimmed
1 teaspoon olive oil
3 garlic cloves, minced
1/4 cup kalamata olives, halved
dash of freshly ground sea salt
Juice from 1 small lemon
Place a steamer basket over a 3 quart pot, filled with water up to the bottom of the basket. Bring the water to a boil, add the broccoli, cover and steam for 3 minutes. Immediately drop the broccoli into a bowl of ice water. After a few minutes drain the broccoli and set aside.
In a large skillet warm the olive oil over medium heat. Add the garlic and saute until golden. Add the broccoli, olives and salt. Saute for another 5 minutes until tender. Remove from heat, place in a serving dish, sprinkle with pine nuts and toss with lemon juice.
Nutritional Analysis: One serving equals: 58 calories, 4.4g fat, 3g carbohydrate, 7.1g fiber, and over 2.5g protein.
PB&J Makeover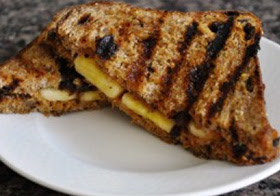 Not all PB&J sandwiches were created nutritionally equal. It all depends on the quality of the ingredients that you use.
If you use white bread, corn syrup-filled peanut butter and refined sugar-filled jelly, the result would be a sandwich that will skyrocket your blood sugar, promotes fat storage and leaves you feeling hungry a short time later.
However, if you make this recipe, with sprouted grain bread, true peanut butter made from one ingredient: peanuts, and fruit preserves that are naturally sweetened with fruit juice rather than sugar, then the result would be a nutritionally dense food that would promote stable blood sugar levels and provide you with hours of sustained energy.
Your kids will love the fun twist of having their sandwich grilled and stuffed with banana slices!
Servings: 1
Here's what you need:
Sprouted grain bread
1 Tablespoon pure peanut butter (no added sugar or corn syrup)
1 Tablespoon natural fruit spread (no added sugar or corn syrup)
1/2 of a banana, sliced
Spread one piece of bread with peanut butter and the other with fruit spread. Line one side with the sliced bananas and sandwich it.
In a grill pan over medium heat, grill each side until grill marks appear and the sandwich is warmed.
Nutritional Analysis: One serving equals: 380 calories, 8.7g fat, 53g carbohydrate, 9g fiber, and 13.2g protein.
Milanese Steak Grill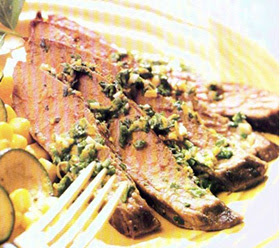 Give your taste buds an early summer vacation with this tantalizing combination of parsley, lemon peel, garlic and white wine. Make sure to trim your steak of all visible fat before grilling to enjoy the leanest cut possible. Add a side of steamed veggies and brown rice for a healthy, tasty meal.Yield: 4 servings 
Here's what you need…
1 lb. boneless beef top round steak, 3/4 inch thick, trimmed of fat
1/4 teaspoon salt
1/8 to 1/4 teaspoon pepper
1/3 cup finely chopped fresh parsley
2 tablespoons grated lemon peel
3 large garlic cloves, minced
1/4 cup dry white wine or chicken broth
1 tablespoon Dijon mustard
Heat grill. Lightly sprinkle both sides of steak with salt and pepper. When ready to grill, place steak on gas grill over medium heat or on charcoal grill 4 to 6 inches from medium coals. Cook 8 to 11 minutes until desired doneness, turning once.
Meanwhile, on rimmed platter or in shallow baking dish, combine remaining ingredients; mix well.
Place hot grilled steak in sauce mixture. Cut steak diagonally across grain into slices. Coat each slice with sauce mixture before placing on individual plates. Spoon any remaining sauce over steak slices.
Nutritional Analysis: One serving equals 150 calories, 4g fat, 2g carbohydrates and 24g protein.