Fennel, Celery and Green Apple Slaw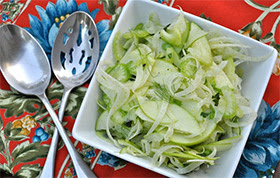 Here's a light and refreshing salad that's filled with healthy fiber. Fresh tarragon, fennel and lemon juice lend vibrant flavors, eliminating the need for fattening, store bought salad dressing. Serve alongside a portion of lean protein for the perfect, fitness approved meal.Servings: 2
Here's what you need:
2 Tablespoons olive oil
1 Tablespoon Apple Cider Vinegar
1 Tablespoon fresh tarragon, minced
1 teaspoon lemon juice
zest from 1 lemon
2 celery sticks plus the leaves
1 fennel bulb, plus the fronds
1 green apple
dash of salt and pepper
In a small bowl combine the oil, vinegar, tarragon, lemon juice and zest. Set aside.
Using a mandoline slicer on the thinnest setting, thinly slice the celery, fennel bulb and green apple. Place in a medium bowl. Chop the celery leaves and fennel fronds and add to the bowl.
Toss the salad with the dressing and season with salt and pepper. Enjoy!
Nutritional Analysis: One serving equals: 219 calories, 14g fat, 192mg sodium, 23g carbohydrate, 7g fiber, and 3g protein
Creamy Roasted Red Pepper Soup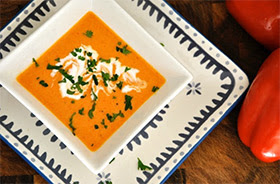 Here's a simple soup recipe using only fresh ingredients. Soup that's made fresh is so much more nutritious and delicious than soup from a can. Seek out organic produce for the highest nutrition and the purest flavor.Servings: 4
Here's what you need:
5 red bell peppers, roasted, peeled and seeded
4 cups of chicken broth
1 can of coconut milk
2 teaspoons of lemon juice
1 teaspoon of sea salt
dash of black pepper
1 teaspoon of smoked paprika
1 Tablespoon of nutritional yeast
Roast the bell peppers on a grill pan. Let them get really blackened. Place in a closed paper bag for 15 minutes. Peel off the skin, remove the seeds and stem.
Transfer the roasted peppers and the remaining ingredients in a high speed blender or food processor. Blend until smooth then heat on the stove. It's really delicious chilled, too. Garnish with a Tablespoon of coconut milk and chopped parsley. Enjoy!
Nutritional Analysis: One serving equals: 227 calories, 18g fat, 512mg sodium, 11g carbohydrate, 3g fiber, and 6g protein
Slow Cooker Chicken Tacos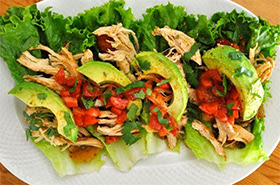 Here's a simple, delicious dinner that your whole family will love. Simply throw the chicken ingredients into the slow cooker in the morning, and come home to a healthy, flavorful meal.Servings: 8
Here's what you need:
2 lbs boneless, skinless chicken thighs
3 bell peppers (any color), thinly sliced
1 yellow onion, thinly sliced
1 (4oz) can green chiles, chopped (I use mild!)
1 (14oz) can diced tomatoes
1 (16oz) jar green salsa
4 cloves garlic, minced
¼ cup cilantro, chopped plus more for garnish
1 Tablespoon ground cumin
1 Tablespoon chili powder
1 Tablespoon fajita seasoning
2 teaspoon sea salt
½ teaspoon black pepper
Large lettuce leaves
Avocado, sliced
Combine all of the ingredients, except the lettuce leaves and avocado, in a slow cooker. Cover and cook on low for 5 hours.
Remove the chicken thighs, shred with a fork, and mix back in. Serve, using a slotted spoon, on the lettuce leaves. Garnish with sliced avocado, chopped cilantro and a sprinkle of fajita seasoning.
Enjoy!
Nutritional Analysis: One serving equals: 202 calories, 6g fat, 589mg sodium, 14g carbohydrate, 5g fiber, and 20g protein.
Hearty Chicken Casserole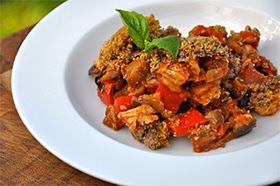 Casseroles like this are a lifesaver on busy weeknights, and unlike most casserole recipes, this one is dairy, grain and gluten free. The tender, hearty veggies and chicken are mixed with tomatoes and basil then topped with a sprinkle of toasted ground nuts and nutritional yeast. You get to enjoy delicious flavor while filling up on protein, veggies and fiber that powers your body and energizes your day.Servings: 8
Here's what you need…
1 teaspoon coconut oil
3 Tablespoons pine nuts
3 Tablespoons pecans, chopped
3 Tablespoons nutritional yeast
dash of sea salt
2 teaspoons olive oil
2 cloves garlic, minced
1 yellow onion, chopped
2 bell peppers, chopped
2 eggplants, chopped
2 cups roasted chicken, cubed
1 (28oz) can crushed tomatoes
3 Tablespoons fresh basil, chopped
¼ cup white wine
½ cup
Preheat the oven to 350 degrees F. Lightly grease a casserole dish with coconut oil.
In a small skillet, place the coconut oil over medium heat. Add the pine nuts and pecans. Sauté until golden brown. Remove from heat and pulse in a food processor with the nutritional yeast and dash of salt. Set the nut mixture aside.
In a large skillet, place the olive oil over medium heat. Add the garlic and onions and cook for 5 minutes. Add the pepper and eggplant and continue to cook for 5 minutes.
Mix in the chicken, tomatoes, basil and wine. Bring to a boil, then simmer for 5 minutes.
Spread the chicken and veggie mixture into the prepared casserole pan. Evenly sprinkle the nut mixture over the top of the casserole. Cover with foil and bake for 50 minutes. Remove the foil and bake for another 10 minutes. Enjoy!
Nutritional Analysis: One serving equals: 223 calories, 7g fat, 320mg sodium, 19g carbohydrate, 9g fiber, and 19g protein.