One Pot Chicken Dinner with Fresh Dill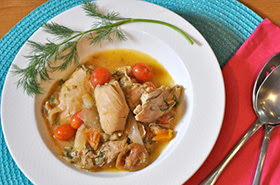 Cooking a healthy dinner at home does not have to be complicated or take lots of time. This simple recipe for chicken, shallots and fresh dill will only take you about 45 minutes from start to finish. Meals that are rich in protein and fiber and low in carbs, like this one, will help you build muscle and stay lean. Servings: 8
Here's what you need:
1/3 cup coconut flour
3 lbs boneless, skinless chicken thighs
sea salt and black pepper
2 Tablespoons olive oil
20 shallots, peeled and halved
4 garlic cloves, minced
1 cup sparkling, white wine
3 Tablespoons Dijon mustard
1 cup organic chicken broth
3 cups cherry tomatoes, halved
1/2 cup fresh dill, chopped
Place the flour in a shallow bowl. Rinse the chicken and pat dry. Season both sides of the chicken thighs with salt and pepper. Dredge through the coconut flour.
In a heavy Dutch oven, heat the olive oil over medium high. Add the chicken and cook until browned, about 4 minutes per side.
Add the shallots and garlic, cook until softened, about 5 minutes. Add the wine, mustard and chicken broth. Reduce the heat to a simmer, cover and cook for 30 minutes.
Add the tomatoes and fresh dill. Season with a little more salt and pepper. Cook over high for 5 minutes. Serve warm.
Nutritional Analysis: 283 calories, 11g fat, 242mg sodium, 8g carbohydrate, 2.5g fiber, and 35g protein
Sweet Potato Protein Muffins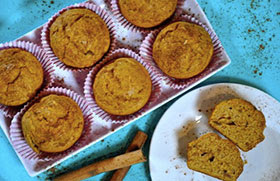 Most muffin recipes use white flour, sugar, canola oil and dairy—but not these healthy muffins. Each of these Sweet Potato Protein Muffins is packed with nutrients, vitamins, minerals and 9 full grams of protein. Enjoy one as a nutritious breakfast or as an after-workout snack. Servings: 12
Here's what you need:
1 cup almonds (or almond flour)
10 dates, soaked in hot water for 10 minutes
1 cup baked sweet potato, skin removed
1 cup vanilla flavored protein powder
3 organic eggs
1 teaspoon vanilla extract
1 teaspoon ground cinnamon
1/2 teaspoon ground nutmeg
1/4 teaspoon baking soda
pinch of sea salt
Poke a sweet potato all over with a fork and bake at 425 degrees F for 40 minutes. Remove from oven, cool, and remove the skin. Reduce oven temperature to 350.
Pulse the almonds in a food processor until finely ground. Add the remaining ingredients to the food processor and pulse until fully combined.
Generously grease a 12-muffin tin with coconut oil. Divide the batter between the 12 muffin tins and bake for 15-20 minutes.
Nutritional Analysis: 134 calories, 6g fat, 107mg sodium, 10g carbs, 2.4g fiber, 9g protein
Easy Apricot Chicken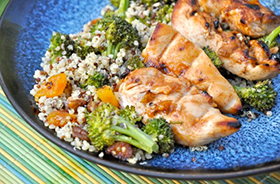 This delicious recipe for Easy Apricot Chicken is a quick and simple dinner that's filled with fiber and protein. Dinners like this will get you well on your way to transforming your body. Pack the leftovers for a wholesome, fat burning lunch.Servings: 4 
Here's what you need:
1/2 cup fruit-only apricot preserves
1/4 cup coconut aminos
1 Tablespoon apple cider vinegar
2 teaspoons grated fresh ginger
1 garlic clove, minced
1/4 teaspoon sweet paprika
1 lb organic chicken tenders
In a medium skillet combine the apricot preserves, coconut aminos, vinegar, ginger, garlic and sweet paprika. Place over low heat and mix often for 4 minutes. Rinse the chicken tenders and place in a baking sheet. Pour the apricot mixture over the chicken, and place in the fridge for 20 minutes.
Turn on the High broil. Line a rimmed baking sheet with foil. Place a wire rack in the center of the sheet and arrange the marinated chicken in a single layer. Place in the oven on the top rack. After 5 minutes, use tongs to flip the chicken. Return to the oven for another 5 minutes. Allow the chicken to blacken slightly.
Nutritional Analysis: 215 calories, 1g fat, 91mg sodium, 14g carbohydrate, 1g fiber, and 27g protein
Easy Gluten-Free Pancakes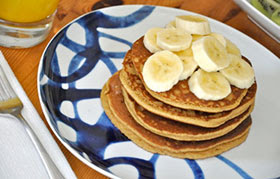 This recipe is a wonderful option for a weekend breakfast – it's healthy, delicious and ready in 20 minutes. These pancakes are gluten-free and are lower in carbs and sugar than pancakes made from a packaged mix. Serve with a side of eggs and fresh fruit. Yield: 10 pancakes
Here's what you need…
1 mashed banana
2 eggs
1/4 cup coconut sugar
1 Tablespoon vanilla extract
1/4 teaspoon almond extract
1 1/2 cups blanched almond flour
1/2 teaspoon baking soda
1/2 teaspoon sea salt
coconut oil
Combine the mashed banana, eggs, coconut sugar, vanilla and almond extracts in a food processor. Add the flour, soda and salt. Mix well. Let the batter sit for 15 minutes.
Preheat coconut oil on your griddle over medium heat. Ladle pancake batter by 1/4 cup onto griddle. When bubbles form, flip the pancakes to cook other side.
Serve with sliced banana and pure maple syrup. Enjoy!
Nutritional Analysis: One pancake equals: 148 calories, 9g fat, 8g carbohydrate, 3g fiber, and 4g protein.
Teriyaki Rib Eye and Chicken Wrapped Asparagus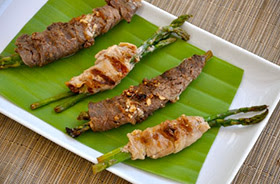 This recipe for Teriyaki Rib Eye and Chicken Wrapped Asparagus is savory and delicious. It's a wonderful way to get your protein and veggies all at once! Fight the urge to serve this meal with traditional rice, and instead shred a head of cauliflower in a food processor and sauté into low-carb, guilt-free rice. Enjoy!
Yield: 5 servings 
Here's what you need:
For the Sesame Blanched Asparagus
Sea salt
2 bunches fresh, organic asparagus
1 Tablespoon sesame seed oil
1 teaspoon lemon zest
1 Tablespoon fresh lemon juice
Fresh, black pepper
Bring 2 inches of water to boil in a large skillet. Add a sprinkle of sea salt.
Wash and trim the ends from 2 bunches of asparagus. Add to the boiling water and blanch for about 10 minutes, until tender and vibrantly green.
Remove from heat, drain and place in a bowl. Toss with the sesame oil, lemon juice and lemon zest. Season with salt and pepper. Set aside.
For the Rib Eye and/or Chicken
1/2 cup sake
1/2 cup mirin
2 Tablespoons freshly grated ginger
2 Tablespoons minced garlic
1/2 cup coconut aminos
2 Tablespoons pure maple syrup
2 Tablespoons olive oil
1 lb thinly sliced Rib Eye and/or Chicken
Combine the sake, mirin, ginger, garlic, coconut aminos and maple syrup in a bowl. Pour over the meat in a shallow container. Place in the fridge and chill for an hour.
Heat the olive oil in a grill pan or skillet. Remove the meat from the fridge. Wrap pieces of meat around stalks of asparagus. Place in the preheated skillet and cook until browned, about 5 minutes per side. Remove from heat and serve immediately. Enjoy!
Nutritional Analysis: One serving equals: 120 calories, 8g fat, 59mg sodium, 6g carbohydrate, 1g fiber, and 14g protein.