Low Carb Spaghetti and Meatballs
So you ditched that package of high-carb noodles from your pantry, now learn to love nature's healthy noodles: spaghetti squash. If you haven't yet tried spaghetti squash then you're in for a real treat. A pile of tender spaghetti squash strands piled high with protein and veggie meatballs makes the perfect fitness meal. Servings: 12
Here's what you need:
2 pounds lean, organic, grass-fed ground beef
1 pound lean, sweet turkey sausage
4 celery stalks, diced
1 yellow onion, diced
3 carrots, diced
3 omega-3, eggs
1/2 cup almond meal
2 Tablespoons dried oregano
1 teaspoon garlic powder
dash of salt and pepper
Optional: handful of olives
Sauce
14.5 oz can diced tomatoes
1 can tomato paste
splash of white wine
2 cups fresh basil, chopped
6 garlic cloves, chopped
dash of salt and pepper
Noodles
Preheat oven to 375 degrees F. Wash spaghetti squash and poke all over with a knife. Place directly on the middle oven rack and bake for 1 hour. Remove from oven and allow to cool. Once cooled, slice in half and remove the seeds. Scoop the spaghetti squash strands out with a large spoon, set aside in a bowl.
Throw all of the meatball ingredients into a large bowl and mix with your hands. Form into large, golf ball sized meatballs.
Combine all of the sauce ingredients into a medium bowl and mix well.
Cook with Crockpot: Place the meatballs in your slow cooker. Cover with the sauce and cook on low for 6-8 hours. OR Cook with stovetop: Place meatballs in a large pot. Cover with sauce and cook, covered, over low heat for 2-3 hours.
Place a scoop of spaghetti squash noodles on each plate, top with meatballs and some sauce and then throw on a few olives.
Nutritional Analysis: One serving equals:  266 calories, 12g fat, 426mg sodium, 14g carbohydrate, 4g fiber, and 26g protein
Curried Chicken and Veggies
This chicken and veggie dish is light and delicious. Yogurt and curry flavors blend for an enjoyable new chicken experience. Enjoy it as a tasty lunch or a protein packed dinner. Servings: 2
Here's what you need…
5 oz boneless raw chicken breast, diced
1/4 cup chicken broth
4 teaspoons cornstarch
5 cups raw mushrooms, sliced
4 teaspoons olive oil
2 cups red bell pepper, chopped
2 cups China peas
1 cup plain lowfat yogurt
2 teaspoons curry powder
Put 2 teaspoons olive oil and the diced chicken in a non-stick pan. Cook chicken until browned, then add chicken broth, yogurt, curry powder and cornstarch, stir constantly. Heat until thick sauce forms, then simmer for 5 minutes.
While chicken is cooking put 2 teaspoons olive oil, mushrooms, bell peppers, and china peas in another non-stick pan. Cook until the vegetables are tender.
Place an equal amount of vegetable on 2 plates and top with equal amounts of chicken.
Nutritional Analysis: One serving equals: 373 calories, 13g fat, 35g carbohydrate, 7g fiber, and 32g protein
Fire-Roasted Chile Omelet
Here's a recipe to spice up your breakfast. Egg whites, fire-roasted green Chile and diced tomatoes create a tasty omelet that is bursting with flavor and packed with protein. Serve with a side of salsa and sliced avocado. Servings: 2
Here's what you need…
1 teaspoon olive oil
3 small tomatoes, finely chopped
2 (4oz) cans of fire-roasted, diced green chiles
12 egg whites
2 Tablespoons water
Non-stick cooking spray
In a skillet, heat the oil over medium heat. Add the tomatoes and chiles and cook until soft, about 3 minutes. Season with pepper and salt and set aside.
In a medium bowl whisk the egg whites and water. Lightly coat a medium non-stick skillet with non-stick cooking spray and place over medium heat. Add 1/4 of the eggs and swirl to evenly coat the bottom of that pan. Cook until the eggs have set, about 2 minutes.
Use a rubber scraper to lift the eggs up and let the runny uncooked egg flow underneath. Spoon 1/4 of the Chile mixture onto half of the omelet, fold over, and slide onto a serving plate. Repeat with remaining egg whites and Chile mixture.
Nutritional Analysis: One serving equals: 163 calories, 5g fat, 6g carbohydrate, 2g fiber, and 26g protein
Simple Turkey Loaf
Here's a simple dinner recipe that is filled with muscle-building protein and fantastic flavor. Serve with a side of cauliflower rice, or a nice big green salad, to increase the fiber content. Leftovers taste even better the next day, so feel free to pack it for a healthy lunch!
Servings: 12
Here's what you need:
2 teaspoons olive oil
2 garlic cloves, minced
1 yellow onion, chopped
1 red bell pepper, chopped
1/2 teaspoon salt
1/2 teaspoon pepper
1 teaspoon dried thyme
1/2 teaspoon onion powder
1/2 teaspoon garlic powder
1 Tablespoon tomato paste
2 omega-3 rich eggs
2.5 pounds organic, ground turkey
1 cup ketchup
Preheat the oven to 325 degrees F. Lightly grease a small casserole pan with olive oil.
Place a skillet over medium heat, add the olive oil, garlic, onions and peppers. Sauté until soft, about 10 minutes. Remove from heat and allow to cool slightly.
Add the spices, tomato paste, eggs and turkey. Mix well then transfer to the prepared pan, shaping into a loaf.
Pour the ketchup evenly over the top of your loaf. Bake for 90 minutes, and until no longer pink in the center.
Nutritional Analysis: One serving equals:  146 calories, 2g fat, 322mg sodium, 5g carbohydrate, .5g fiber, and 25g protein
Tuna Boats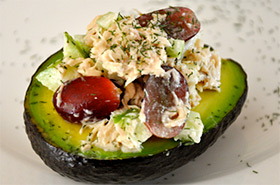 If you've ever said that healthy eating takes too much time and effort, then this recipe is for you. A few minutes are all that you need to pull this simple, delicious, protein-packed meal together. Enjoy it whenever you're in a hurry for a nutritious meal. Servings: 6
Here's what you need:
2 cans of wild caught albacore tuna, packed in water
2 celery stalks, finely chopped
half of green apple, finely chopped
1/2 cup red grapes, halved
1/4 cup plain Greek yogurt
1 teaspoon dried dill weed, and more for garnish
3 Avocados, pitted and halved
Drain tuna, then flake into a medium bowl.
Add the remaining ingredients, except avocado, and mix until well combined.
Serve by placing a scoop of tuna into each avocado half. Sprinkle with dill weed.
Nutritional Analysis: One serving equals: 268 calories, 22g fat, 147mg sodium, 13g carbohydrate, 8g fiber, and 12g protein