It's BBQ Season. Here are some awesome options to have during these warm summer months or to take to your next gathering. Enjoy!
Easy Baked Halibut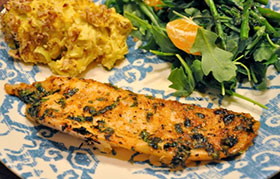 Think that cooking healthy is difficult or time consuming? This recipe will make you think again. Simply combine the flavorful marinade ingredients, brush over the fillets and bake. That's it! Add a side of veggies and a dark green salad for a delicious fitness approved meal. Servings: 4
Here's what you need:
4 halibut fillets
1 Tablespoon coconut aminos
Juice from one lime
2 garlic cloves, minced
2 teaspoons fresh ginger, minced
1 Tablespoon olive oil
1 teaspoon toasted sesame oil
2 Tablespoons fresh cilantro, chopped
1/4 teaspoon sweet paprika
Preheat the oven to 350 degrees F. Lightly grease a baking pan with olive oil.
Rinse the fillets and pat dry. Place in the prepared pan.
In a small bowl combine the remaining ingredients. Brush over the fillets.
Bake for 15 minutes, then turn the oven to broil for an additional 3 minutes.
Nutritional Analysis: One Serving equals: 201 calories, 7g fat, 250mg sodium, 3g carbohydrate, 1g fiber, and 30g protein
This chicken has awesome flavor and is quick to make on a weeknight. Serve with a leafy green salad and a side of asparagus or broccoli for the perfect flat abs meal. Makes: 4 Servings
Sweet and Smokey Chicken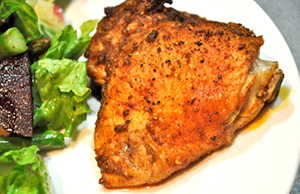 Here's what you need…
4 bone-in, skin-on, organic chicken thighs
1 teaspoon smoked paprika
1 teaspoon garlic powder
1 teaspoon ground cumin
1 Tablespoon olive oil
1/4 teaspoon allspice
1/2 teaspoon onion powder
1 packet Stevia
dash of salt and pepper
Preheat oven to 425 degrees F.
Rinse the chicken and pat dry. Place in a large ziplock bag.
In a small bowl combine the remaining ingredients. Add to the ziplock bag and toss until the chicken is fully      coated.
Place the coated chicken thighs on a broiling pan. Bake for 40 minutes.
Nutritional Analysis: One serving equals: 248 calories, 18g fat, 428mg sodium, 1g carbohydrate, 0g fiber, and 18g protein
Healthy Mini Muffins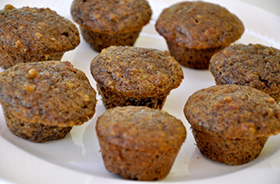 Need a quick breakfast or snack item that won't erase that awesome workout you just did this morning? Whip up a batch of these gluten and sugar free mini muffins and stock your fridge with the perfect on-the-go snack. Servings: 24 mini muffins
Here's what you need:
1/2 cup blanched almond flour
1/2 cup flax meal
1 Tablespoon coconut flour
1 teaspoon baking soda
1/2 teaspoon salt
1/2 teaspoon ground cinnamon
3 eggs
half of a ripe banana, mashed
1/3 cup coconut crystals
2 Tablespoons pure maple syrup, grade b
1/4 cup coconut milk, canned, full fat
2 Tablespoons almond butter
1 teaspoon vanilla extract
1 Tablespoon coconut oil, melted
1/2 cup golden raisins
1/2 cup raw pecans, chopped
Preheat oven to 350 degrees F. Lightly grease a mini muffin pan with coconut oil.
In a medium bowl combine the almond flour,  flax meal, coconut flour, baking soda, salt and cinnamon.
In another medium bowl combine the eggs, banana, coconut crystals, maple syrup, coconut milk, almond butter and vanilla. Mix until smooth. Add the dry ingredients into the wet ones and mix well.
Slowly add the melted coconut oil, mix until all the lumps disappear.
Add the raisins and pecans and mix well.
Divide the batter for 24 mini muffins. Bake for 15-20 minutes, until golden and fully set.
Cool on a wire rack for 10 minutes. Store in an airtight container in the fridge.
Nutritional Analysis: One Serving equals: 88 calories, 6g fat, 65mg sodium, 7g carbohydrate, 1g fiber, and 3g protein
Tender Slow Cooker Chicken Breast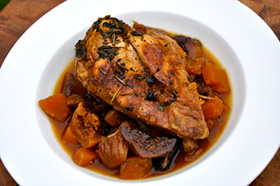 Putting dinner in the slow cooker before you leave for work in the morning is one of the easiest ways to ensure that you'll be eating a healthy dinner that night. This chicken breast comes out so tender that it literally falls apart – it's delicious.
Makes: 6 Servings
Here's what you need…
1 Tablespoon olive oil
1 small red onion, chopped
1 small yellow onion, chopped
3 garlic cloves, minced
3 lbs organic, boneless, skinless chicken breasts
salt and pepper
12 dried figs, chopped
1 cup butternut squash, chopped
1 cup chicken broth
1 teaspoon dried rosemary
2 Tablespoons fresh tarragon, chopped
2 Tablespoons fresh sage, chopped
In a large skillet place the olive oil over medium heat. Add the onions and garlic and sauté for 5 minutes.
Rinse the chicken and pat dry. Season with salt and pepper. Add to the skillet, browning each side for about 5 minutes.
Transfer the contents of the skillet to your slow cooker and top with the remaining ingredients.
Cook on low for 6 hours.
Nutritional Analysis: One serving equals: 389 calories, 7g fat, 400mg sodium, 27g carbohydrate, 2g fiber, and 48g protein