Fitness Oatmeal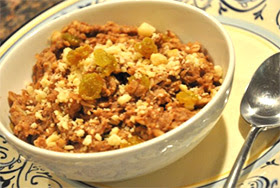 This oatmeal is packing a powerful ingredient – protein. Mix a scoop of your favorite protein powder into your oatmeal to transform it into a quick and healthy breakfast.Servings: 1
Here's what you need…
½cup whole grain oats
1 cup water
dash of sea salt
1 scoop high quality protein
1 tablespoon chopped macadamia nuts
1 tablespoon golden raisins
Mix the oats, water and salt together in a microwave safe bowl. Microwave on high for 2 to 4 minutes.
Stir in protein, top with nuts and raisins.
Nutritional Analysis: One serving equals: 325 calories, 7g fat, 41g carbohydrate, 10g fiber, and 26g protein.
Strawberry MicroGreen Salad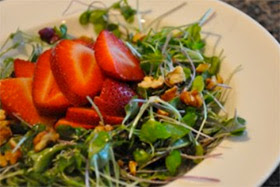 Microgreens are tiny leafed vegetables that are harvested when less than two inches tall. They have remarkably intense flavor and high levels of vitamins and minerals. Pair this salad with a piece of lean meat for an excellent, light meal.Servings: 4
Here's what you need…
3 cups organic microgreens
1 cup sliced strawberry
strawberry dressing (6 strawberries, 1 Tablespoon balsamic vinegar, 1 teaspoon honey, 1 teaspoon olive oil, dash of salt and pepper — blended)
1/4 cup chopped walnuts
Toss the microgreens with strawberries and dressing. Sprinkle with walnuts.
Nutritional Analysis: One serving equals: 124 calories, 6g fat, 8g carbohydrate, 3g fiber, and 2g protein.
Low Carb Spaghetti and Meatballs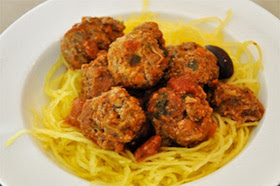 So you ditched that package of high-carb noodles from your pantry, now learn to love nature's healthy noodles: spaghetti squash. If you haven't yet tried spaghetti squash then you're in for a real treat. A pile of tender spaghetti squash strands piled high with protein and veggie meatballs makes the perfect fitness meal.Servings: 12
Here's what you need…
2 pounds lean, organic, grass-fed ground beef
1 pound lean, sweet turkey sausage
4 celery stalks, diced
1 yellow onion, diced
3 carrots, diced
3 omega-3, eggs
1/2 cup almond meal
2 Tablespoons dried oregano
1 teaspoon garlic powder
dash of salt and pepper
Optional: handful of olives
Sauce
14.5 oz can diced tomatoes
1 can tomato paste
splash of white wine
2 cups fresh basil, chopped
6 garlic cloves, chopped
dash of salt and pepper
Noodles
Preheat oven to 375 degrees F. Wash spaghetti squash and poke all over with a knife. Place directly on the middle oven rack and bake for 1 hour. Remove from oven and allow to cool. Once cooled, slice in half and remove the seeds. Scoop the spaghetti squash strands out with a large spoon, set aside in a bowl.
Throw all of the meatball ingredients into a large bowl and mix with your hands. Form into large, golf ball sized meatballs.
Combine all of the sauce ingredients into a medium bowl and mix well.
Cook with Crockpot: Place the meatballs in your slow cooker. Cover with the sauce and cook on low for 6-8 hours. OR Cook with stovetop: Place meatballs in a large pot. Cover with sauce and cook, covered, over low heat for 2-3 hours.
Place a scoop of spaghetti squash noodles on each plate, top with meatballs and some sauce and then throw on a few olives.
Nutritional Analysis: One serving equals:  266 calories, 12g fat, 426mg sodium, 14g carbohydrate, 4g fiber, and 26g protein
Zucchini Cakes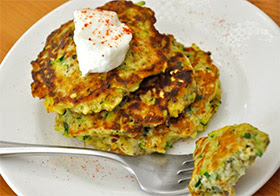 It's zucchini season and I've got a fantastic, healthy recipe for zucchini cakes that I know you'll love. Serve these guilt-free cakes with a side of lean protein for a well balanced, fitness meal.Servings: 8
Here's what you need:
1 tsp olive oil
1 small yellow onion, grated
1 garlic clove
2 cups grated Zucchini
½ tsp salt
2 eggs
¼ cup coconut flour
2 Tablespoons flax meal
½ tsp baking powder
Non-Fat Plain Greek Yogurt
Sweet Paprika
Heat half of the olive oil in a large skillet. Sauté the onion and garlic for 2 minutes, then set aside.
Place grated zucchini in a colander, sprinkle with the salt and allow to sit in the sink for 10 minutes.
Use a clean paper towel to squeeze excess water from the zucchini.
In a medium sized bowl whisk the eggs. Add the coconut flour, flax and baking powder. Add the onions and zucchini.
Place the remaining olive oil in a large skillet over medium heat. Drop the dough in heaping Tablespoons, press down with a fork. Cook each side for 3 minutes or until golden. Enjoy!
Nutritional Analysis: One serving equals 51 calories, 2.7g fat, 188mg sodium, 4g carbohydrate, 2g fiber, and 3g protein
Sweet & Tangy Grilled Chicken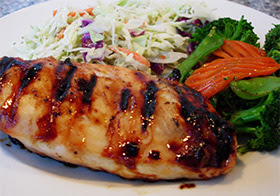 Serve this delicious grilled chicken at your next barbecue. The honey-mustard glaze has a wonderful tangy flavor. Remember to add healthy side dishes for a summer meal that will satisfy without weighing you down.Servings: 6
Here's what you need:
4 Tablespoons honey
4 Tablespoons spicy mustard
1 teaspoon grated lemon peel
2 teaspoons low-sodium soy sauce
½ teaspoon minced garlic
6 boneless, skinless chicken breasts
Pre-heat your grill. If using coals, heat until the coals turn gray and there are no longer strong flames, 35-45 minutes.
Combine honey, mustard, lemon peel, soy sauce and garlic. Mix well. Reserve a few tablespoons of the sauce. Add chicken and marinate in the refrigerator for 40 minutes.
Cook the chicken 5 to 6 minutes per side. Brush with the reserved sauce, and continue cooking for an additional 3 to 4 minutes per side, until chicken registers 170 degrees F on a meat thermometer.
Nutritional Analysis: One serving equals 183 calories, 2g fat, 13g carbohydrate, 0g fiber, and 28g protein.