Santa Fe Salmon Salad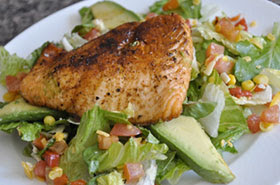 Eating healthy does not need to be boring. Grilled salmon, crip greens, tender corn and peppers, a sprinkle of cheese and a few slices of avocado make this healthy salad something worth repeating. The flavors in this dish are so delicious there is no need for dressing. Servings: 2
Here's what you need…
2 (3.5 oz) salmon fillets
Santa Fe seasoning blend (2 teaspoons cumin, 1 teaspoon coriander, 1 teaspoon chili powder, 1 teaspoon dried oregano, 1 teaspoon thyme, 1/8 teaspoon clove, 1/8 teaspoon allspice, 1/8 teaspoon ground cinnamon)
4 cups romaine lettuce, chopped
1/2 cup tomato, chopped
1/4 cup corn kernels
1/8 cup low fat cheese, grated
1/8 cup canned red peppers, finely chopped
1/2 avocado, sliced
Coat the salmon fillets with Santa Fe seasoning. On a pre-heated grill, cook for 8-10 minutes on each side, until flaky and cook all the way through. Remove from heat.
On 2 plates arrange a bed of lettuce, topped with half of the tomato, corn, cheese, peppers and avocado. Place the fillet on top.
Nutritional Analysis: One serving equals: 252 calories, 12 fat, 225mg sodium, 12g carbohydrate, 7g fiber, and 24g protein.
It's healthy, tastes great and is ready in just a few minutes—what more could you ask for in a breakfast? To make this scrumptious omelet a complete meal, serve it up with wheat toast and fresh fruit. Yield: 2 Servings 
Here's what you need…
1 cup egg whites
1/4 cup nonfat cream cheese, softened
2 oz smoked salmon
Garlic salt and pepper to taste
Whisk together the egg whites, cream cheese, garlic salt and pepper. Coat a nonstick skillet with cooking spray and place over medium heat. Gently push the egg whites toward the center as they cook.
When the eggs are almost set, place the salmon on top. Cover the pan and cook for 30 additional seconds. Remove the lid and fold omelet in half. Cut in half and serve.
Nutritional Analysis: One serving equals 124 calories, 1.8g fat, 2.5g carbohydrate, and 22.65g protein
Ratatouille is a dish of cooked vegetables that originated in southern France. It is hearty and satisfying, like comfort food, with none of the guilt. This version contains white beans which add protein and have a wonderful texture. Serve it hot or cold, either way this dish is sure to please.
Yield: 8 servings
Here's what you need:
1 large-size globe eggplant, cut in 1/2 inch cubes
1 tablespoon water, for sautéing
2 medium-size red onions, sliced
3 medium-size zucchini, cut in 1/2 inch cubes
2 red bell peppers, cut into 1/2 inch squares
4 garlic cloves, minced
1/4 cup dry white wine
1 cup vegetable stock
4 tomatoes, seeded and roughly chopped (or 2 cans – 15 oz each – fire roasted diced tomatoes)
1 tablespoon chopped fresh parsley
1/2 teaspoon dried thyme
1/2 teaspoon dried oregano
2 bay leaves
2 (15oz) cans white beans, drained and rinsed
Salt and fresh group pepper, to taste
1/2 cup finely chopped fresh basil
Steam eggplant cubes for 10 minutes. Heat the water in a large-size saute pan, add onions and cook, for 5 minutes.
Add zucchini and bell peppers and cook, stirring often, for another 5 minutes. Add steamed eggplant and cook another 5 minutes, then add garlic.
Add wine and stock. Bring to a boil over high heat, then reduce heat to medium-high and stir in tomatoes, parsley, thyme, oregano, and bay leaves. Reduce heat, cover, and simmer gently for 15 minutes, stirring occasionally.
Add beans to skillet, stirring well to combine. Cook, uncovered, until vegetables are tender but not mushy and liquids have thickened, stirring occasionally for another 5 minutes. Season with salt to taste.
Remove skillet from heat, remove the bay leaves, and stir in chopped basil.
Nutritional Analysis: One serving equals: 195 calories, 1g fat, 38g carbohydrate, 11.5g fiber, and 9.5g protein.
Flax Meal Protein Cakes
Who doesn't love pancakes? Here's a recipe that you can enjoy guilt free. These pancakes are packed with protein and contain omega-3 fatty acid from the flax meal. Omega-3 fatty acids are not manufactured naturally in your body, and thus must come from your diet as they are essential for growth and development. Servings: 2
Here's what you need…
1 egg and 2 egg whites
2/3 cup nonfat cottage cheese
1/2 cup whole grain cornmeal
2 tablespoon whole wheat flour
1 teaspoon baking powder
1 tablespoon sugar
1/3 cup nonfat milk
2 tablespoon flax meal
1 teaspoon grated lemon peel
Sliced banana *optional*
Place all ingredients in a blender and blend until smooth.
Bake on a 350-degree griddle lightly greased with cooking spray. Serve with sliced banana.
Nutritional Analysis: One serving equals: 264 calories, 4g fat, 39g carbohydrate, 3g fiber, and 20g protein.