Slow Cooker Chicken Tacos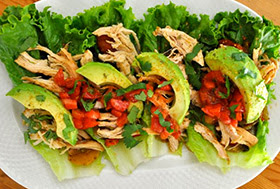 Here's a simple, delicious dinner that your whole family will love. Simply throw the chicken ingredients into the slow cooker in the morning, and come home to a healthy, flavorful meal. Servings: 8
Here's what you need…
2lbs boneless, skinless chicken thighs
3 bell peppers (any color), thinly sliced
1 yellow onion, thinly sliced
1 (4oz) can green chiles, chopped (I use mild!)
1 (14oz) can diced tomatoes
1 (16oz) jar green salsa
4 cloves garlic, minced
1/4 cup cilantro, chopped plus more for garnish
1 Tablespoon ground cumin
1 Tablespoon chili powder
1 Tablespoon fajita seasoning
2 teaspoon sea salt
1/2 teaspoon black pepper
Large lettuce leaves
Avocado, sliced
Combine all of the ingredients, except the lettuce leaves and avocado, in a slow cooker. Cover and cook on low for 5 hours.
Remove the chicken thighs, shred with a fork, and mix back in. Serve, using a slotted spoon, on the lettuce leaves. Garnish with sliced avocado, chopped cilantro and a sprinkle of fajita seasoning. Enjoy!
Nutritional Analysis: One serving equals: 202 calories, 6g fat, 589mg sodium, 14g carbohydrate, 5g fiber, and 20g protein.
Celery Root & Green Onion Bisque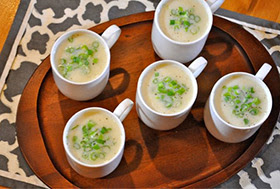 Here's a deliciously creamy (yet dairy-free) way to enjoy your veggies. This wholesome, tasty soup is perfect as a light winter meal.
Servings: 8
Here's what you need…
2 Tablespoons coconut oil
1 bunch scallions, chopped
1 large yellow onion, chopped
dash of sea salt plus 1 teaspoon
1.5 lb celery root
32oz organic chicken broth
1 (13.66 oz) can coconut milk
1/4 cup fresh chives, thinly sliced
black pepper
In a large soup pot, place the coconut oil over medium-low heat. Add the scallions, onion, and dash of salt. Cook for 15 minutes, until tender.
Peel the celery root, then chop into small pieces. Add the celery root pieces, 1/2 cup of water and the remaining 1 teaspoon of sea salt to the pot. Cover and cook until the celery root is tender, about 15 minutes.
Add the chicken broth and coconut milk then cook, uncovered, for 20 minutes. Let cool slightly.
Use a hand blender to puree the soup into a very smooth consistency. Garnish with chives and black pepper. Enjoy!
Nutritional Analysis: One serving equals: 154 calories, 11g fat, 430mg sodium, 7g carbohydrate, 1g fiber, and 4g protein.
Chinese Zucchini Noodle Bowls with Pork Meatballs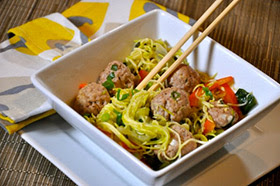 Using a spiral slicer to turn zucchini into long, noodle strands is a fantastic way to enjoy comfort food without guilt. These Chinese Noodle bowls are filled with flavor, fiber and lots of tasty protein. Meals like this are exactly what you need to reach your fitness goals. Servings: 6
Here's what you need…
For the MeatBalls
1 lb ground pork
1 teaspoon Chinese 5-Spice powder
Sea salt and black pepper
1 inch fresh ginger, peeled and minced
1 clove garlic, minced
1/4 cup almond flour
2 green onions, minced
2 teaspoons sesame oil
For the Noodle Bowls
1 Tablespoon sesame oil
1 inch fresh ginger, peeled and thinly sliced
2 cloves garlic, minced
4 green onions, thinly sliced
1 red bell pepper, seeded and thinly sliced
4 baby bok choy, thinly sliced
8 cups chicken broth
2 Tablespoons coconut aminos
5 organic zucchini, peeled and run through a spiral slicer
For the MeatBalls
Preheat the oven to 400 degrees F. Place a wire rack on a rimmed baking sheet.
In a medium bowl combine all of the meatball ingredients. Mix well with your hands until all of the ingredients are evenly combined. Form golf ball sized balls and place on the wire rack. Bake for 25-30 minutes, until fully cooked.
For the Noodle Bowls
In a large soup pot, place the sesame oil over medium-high heat. Add the ginger, garlic, onions, and bell pepper. Cook for 4 minutes. Add the bok choy and cook for another 4 minutes. Add the broth and coconut aminos. Reduce the heat to medium-low.
Use a vegetable peeler to remove all of the green skin from the zucchini. Cut each zucchini in half, width-wise, and use a spiral slicer to create long, angel-hair noodles. Add the noodles and the cooked meatballs to the soup pot. Simmer over medium-low heat for 10 minutes. Serve in shallow bowls, drizzled with sesame oil and sprinkled with minced green onion. Enjoy!
Nutritional Analysis: One serving equals: 199 calories, 18g fat, 170mg sodium, 21g carbohydrate, 2g fiber, and 18g protein.
Fastest Chicken Stir Fry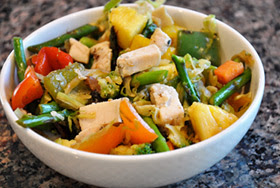 Think you don't have enough time to cook a healthy meal? Think again. This healthy and delicious chicken stir fry takes only minutes to make. Instead of chopping the vegetables yourself, this recipe calls for pre-chopped ingredients found in the produce section of your grocery store. Skip the take out line tonight and try this recipe instead. Yield: 6 servings
Here's what you need…
1 teaspoon olive oil
1 teaspoon chopped garlic
1 cup asparagus, cut into 2 inch segments
1 (16 oz) package pre-chopped stir fry vegetables
1 (10 oz) package shredded cabbage
1 cup chopped pineapple
1 cup chopped cooked chicken breast
1/4 cup teriyaki sauce
Heat the olive oil in a large skillet or wok. Add the garlic. When the garlic is browned add the asparagus. Stir fry for 5 minutes or until the asparagus turns bright green.
Add the chopped stir fry vegetables, cabbage, and pineapple. Stir fry for 5 minutes or until the vegetables are tender.
Add the cooked chicken pieces and mix in the teriyaki sauce. Stir fry for another minute, until the sauce is evenly distributed.
Nutritional Analysis: One serving equals: 117 calories, 1.8g fat, 15.8g carbohydrate, 4g fiber, and 10.7g protein.