Quinoa Fruit Salad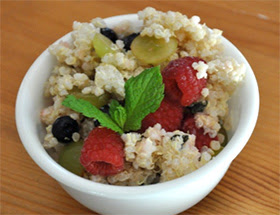 This cleansing salad is made with quinoa. Quinoa is a gluten-free, protein-packed seed. It's a complete protein, containing all 9 essential amino acids. Add a side of lean protein to your salad and you've got a highly nutritious, balanced meal. Servings: 6
Here's what you need…
3/4 cup plain non-fat Greek yogurt
2 Tablespoons lime juice, divided
1-15 fresh mint leaves, minced
2 cups cooked quinoa
optional dash of salt and pepper
1 cup blueberries
1 cup green grapes, halved
1/2 cup raspberries
1 teaspoon raw honey
In a small bowl combine the yogurt, 1 Tablespoon lime juice and the mint. Pour over the cooked quinoa and mix well. Season with salt and pepper.
In another bowl combine the fruit, honey and remaining lime juice.
Cover and refrigerate each bowl for 2 hours, to allow the flavors to emerge, then combine the fruit with the quinoa and serve.
Nutritional Analysis: One serving equals: 114 calories, 1 fat, 13mg sodium, 20g carbohydrate, 2.5g fiber, and 6g protein.
Baked Avocado & Egg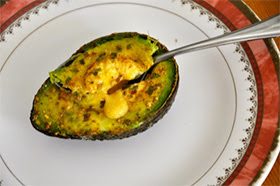 Who knew you could bake avocado? It makes a fun little boat for half of a scrambled egg. Enjoy for as a nutritious, on-the-go breakfast or snack. Servings: 2
Here's what you need…
1 organic avocado, halved with pit removed
1 egg
salt, pepper, and your favorite seasoning – I used Fajita Seasoning
Preheat the oven to 425 degrees F. Flip each avocado side over and slice off enough of the rounded skin so that it can sit flat when the fleshy side is up.
Place the avocadoes, fleshy side up, in a baking pan. Crack some salt into each hole. Whisk the egg in a bowl, divide it between the avocado holes.
Sprinkle with salt, pepper and the seasoning of your choice.
Bake for 16-18 minutes, until the egg has fully set. Eat with a spoon and enjoy!
Nutritional Analysis: One serving equals: 176 calories, 15g fat, 35mg sodium, 8g carbohydrate, 8g fiber, and 6g protein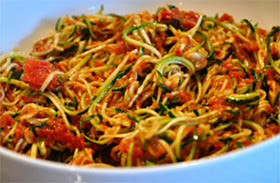 Here is a guiltless way to prepare spaghetti that the whole family will love. To create angel hair noodles out of zucchini you simply need a small kitchen gadget called a spiral slicer. This ingenious tool is well worth the small investment – with it you'll quickly and easily make delicious, fiber-filled noodles. Yield: 4 servings
Here's what you need:
4 zucchini, ends trimmed and run through a spiral slicer
1 teaspoon olive oil
1/2 cup chopped onion
3 garlic cloves, minced
1 (20oz) package lean ground turkey
2 cups spaghetti sauce
Salt and pepper to taste
Place the spiral-sliced zucchini in a large bowl and set aside.
In a medium sized skillet heat the oil. Add the onion and garlic and sauté until soft.
Add the turkey to the skillet and cook until fully browned. Add the spaghetti sauce and mix until fully incorporated. Remove from heat.
Mix the sauce with the zucchini noodles in the large bowl and serve.
Nutritional Analysis: One serving equals: 292 calories, 8g fat, 26g carbohydrate, 5g fiber, and 27g protein.
Lettuce Wrapped Fish Tacos
These tacos are the perfect get-ready-for-beach-season meal. Flaky, protein-filled fish topped with mango salsa and wrapped in a crunchy guilt-free lettuce leaf. It's flavorful, satisfying and will keep you on track with your fat loss goals. Servings: 8
Here's what you need…
4 (3.5oz) Cod Fillets
1/2 cup tropical vinaigrette
1 lime
4 large pieces of butter lettuce
4 Tablespoons guacamole
1 cup shredded cabbage
4 Tablespoons mango salsa
Marinate the cod fillets in dressing for 20 minutes.
Preheat oven to 375 degrees F. Grease a pan with olive oil.
Place marinated cod in prepared pan, cut lime in half and squeeze juice over cod. Bake for 15 minutes.
While cod is baking, separate leaves from lettuce, being careful to keep them intact. Assemble individual tacos by putting a tablespoon of guacamole on a lettuce leaf, topped with 1/4 cup of cabbage.
Once fish is done, change oven to broil for a few minutes, watching closely until top is browned. Remove from oven.
Top each prepared taco with a piece of fish, a spoonful of salsa, and a slice of the remaining lime half.
Nutritional Analysis: One serving equals: 141.5 calories, 2.5 fat, 61mg sodium, 4.8g carbohydrate, 1.2g fiber, and 23g protein.