Strawberry MicroGreen Salad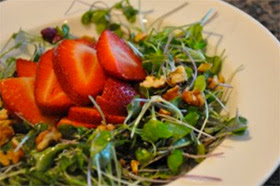 Microgreens are tiny leafed vegetables that are harvested when less than two inches tall. They have remarkably intense flavor and high levels of vitamins and minerals. Pair this salad with a piece of lean meat for an excellent, light meal. Servings: 4
Here's what you need:
3 cups organic microgreens
1 cup sliced strawberry
strawberry dressing (6 strawberries, 1 Tablespoon balsamic vinegar, 1 teaspoon honey, 1 teaspoon olive oil, dash of salt and pepper — blended)
1/4 cup chopped walnuts
Toss the microgreens with strawberries and dressing. Sprinkle with walnuts.
Nutritional Analysis: One serving equals: 124 calories, 6g fat, 8g carbohydrate, 3g fiber, and 2g protein.
Tender Homemade Baked Beans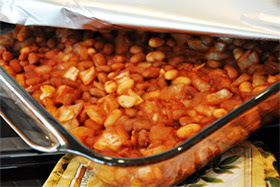 Baked beans are filled with healthy protein and fiber. This homemade recipe is quick and easy to make and tastes great. Serve it hot from the oven, or enjoy it chilled – either way it's a crowd pleaser. Servings: 12
Here's what you need…
1 teaspoon olive oil
3 cloves garlic, minced
2 yellow onions, chopped
1 (6oz) can tomato paste
1/4 cup tamari (low sodium soy sauce)
4 Tablespoons pure maple syrup
1 Tablespoon mustard
3 (15oz) cans pinto or white beans, drained and rinsed
Preheat oven to 350 degrees. Spray a large baking pan with non-stick spray and set aside.
In a large skillet, heat the olive oil and sauté the garlic and onions until tender.
In a large bowl, mix the tomato paste, tamari, maple syrup and mustard until a thick sauce forms. Add the beans and onions and mix until fully incorporated.
Spread the beans into prepared pan, cover tightly with foil and bake for 30 minutes.
Nutritional Analysis: One serving equals: 134 calories, .5g fat, 25g carbohydrate, 5g fiber, and 8g protein.
Cranberry Quinoa Mini Muffins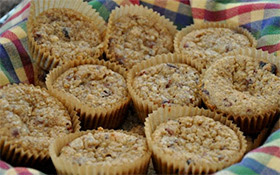 Here is a muffin that is truly packed with fiber. Whole wheat flour and wholesome cooked quinoa combine with almonds and cranberries for a moist and delicious treat. Cooked quinoa can be used in place of some of the flour in almost any recipe to increase protein and fiber. Servings: 36
Here's what you need:
1 cup unsweetened rice milk
1 Tablespoon ground flaxseeds
1/4 cup safflower oil
1/3 cup pure maple syrup
1/2 teaspoon vanilla extract
1/4 teaspoon almond extract
zest from 1 small lemon
1 cup whole wheat flour
1/2 cup ground almonds
1 1/2 teaspoons baking powder
1/2 teaspoon freshly ground sea salt
1/2 teaspoon freshly ground cinnamon
1/2 teaspoon ground cardamom
1 1/4 cups cooked quinoa
1/3 cup finely chopped dried cranberries
1/4 cup organic turbinado raw cane sugar
Preheat oven to 370 degrees F. Place 12 muffins liners in muffin pan and set aside.
In a medium sized bowl combine the rice milk, flaxseed, oil, maple syrup, vanilla, almond and lemon zest.
In a separate bowl combine the flour, ground almond, baking powder, salt, cinnamon and cardamom. Mix the dry ingredients with the wet ones and fold in the cooked quinoa and chopped cranberries.
Use an ice cream scooper to fill each muffin liner 3/4 full. Sprinkle the turbinado raw cane sugar on top of each muffin. Bake for 30 minutes or until golden.
Nutritional Analysis: One serving equals: 55 calories, 2.5g fat, 8g carbohydrate, 1g fiber, and 1g protein.
Awesome Spinach Salad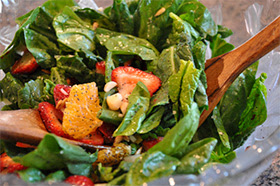 This spinach salad tastes amazing! Spinach is an extremely nutrient-dense food, so you'll be fueling up on important vitamins and minerals as well as healthy fiber. The recipe calls for raspberry vinegar, which is a flavorful and refreshing alternative to traditional, oily dressing. The fruit and nuts add flavor, fiber and healthy fat. Servings: 8 
Here's what you need:
8 cups cleaned spinach leaves
3 oranges, peeled, sliced and quartered
2 cucumbers, peeled sliced and quartered
1/8 cup macadamia nuts, coarsely chopped
1/8 cup sunflower seeds
2 Tablespoons poppy seeds
1 cup strawberries, sliced or whole raspberries
1/2 cup white balsamic raspberry blush vinegar
Combined the spinach, oranges, cucumbers, macadamia nuts, sunflower seeds, poppy seeds and strawberries in a bowl.
Add the vinegar and toss well.
Nutritional Analysis: One serving equals: 99 calories, 3g fat, 14g carbohydrate, 2.6g fiber, and 3.5g protein.