Mango Chutney Chicken Salad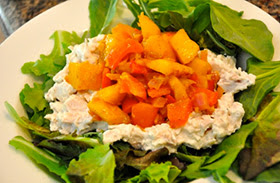 This tropical salad is a refreshing way to serve chicken. Tender mango chutney, creamy Greek yogurt and fresh, crunchy greens make this one tasty meal, filled with healthy protein and fiber. Servings: 5
Here's what you need…
1 teaspoon olive oil
2 cloves garlic, minced
1 inch ginger root, minced
1 small red onion, chopped
1 small red bell pepper, chopped
2 ripe mangoes, chopped
Juice from 2 limes
1 Tablespoon curry powder
1 teaspoon ground cinnamon
Dash of nutmeg
Dash of red pepper flakes
1 1/2 cups non-fat, plain Greek yogurt
1 Tablespoon Dijon mustard
Dash of salt and pepper
3 cups cooked chicken breast, chopped
4 cups salad greens
In a large skillet, heat oil over medium heat. Add garlic and ginger root and sauté for a minute.
Add the onion and bell peppers and sauté for a few minutes.
Add the mango and spices. Continue to sauté for another 5 minutes, until everything has softened.
Turn the heat down to low, cover and simmer for another 10 minutes. Remove from heat. Chill for 20 minutes in the refrigerator.
Combine the yogurt, mustard, salt and pepper together in a small bowl. Place the chopped chicken in a medium sized bowl and mix in the yogurt blend.
Prepare each plate with a pile of greens topped with a scoop of chicken and a spoonful of chutney.
Nutritional Analysis: One serving equals: 286 calories, 6 fat, 185mg sodium, 22g carbohydrates, 3g fiber, and 35g protein.
Low-Carb Roasted Asparagus Pasta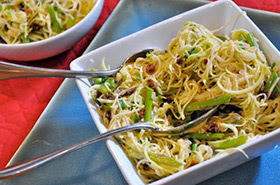 You'll need a spiral slicer for this recipe, in order to create long, noodle strands out of zucchini. If you don't already have a spiral slicer, it's a great tool that makes low-carb noodles quickly and easily. The addition of roasted asparagus to this pasta is simply delicious. Enjoy! Servings: 4 
Here's what you need:
1 bunch, organic asparagus
1 teaspoon olive oil
dash of sea salt and pepper
5 organic zucchini
2 Tablespoons sun dried tomatoes, chopped
For the dressing:
1 garlic clove, chopped
2 Tablespoons yellow onion, chopped
1 Tablespoon Dijon mustard
1 Tablespoon lemon juice
1/4 teaspoon sweet paprika
2 Tablespoons olive oil
1/4 cup fresh chives, thinly sliced
Preheat the oven to 425 degrees.
Trim the ends off the asparagus, and chop into ½ inch pieces. Place in a medium bowl and combine with the olive oil and a dash of salt and pepper. Transfer to a baking sheet and bake for 10 minutes.
Trim the ends from the zucchini and use a veggie peeler to remove the green skin. Cut the zucchini in half, width-wise, then run through a spiral slicer to create long, angel hair noodles. Place the noodles in a large bowl. Add the sun dried tomatoes and roasted asparagus.
In a small bowl combine all of the dressing ingredients. Pour the dressing over the noodle salad and mix well to combined.
Nutritional Analysis: One serving equals: 134 calories, 8g fat, 10mg sodium, 10g carbohydrate, 5g fiber, and 5g protein
Tropical Salad with Teriyaki Chicken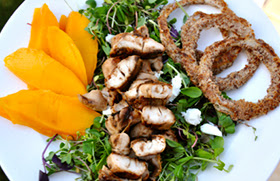 This salad is fun and full of flavor, made with nutrient-packed microgreens, sweet mango, tender teriyaki chicken and guilt-free onion rings. Eat this and give your body the protein it needs as well as a healthy serving of fiber.
Servings: 6
Here's what you need…
4 organic, free-range chicken breasts
1/4 cup Organicville Island Teriyaki Sauce
1 large yellow onion, cut into 1/2 inch slices
1 cup almond meal
dash of salt
1/4 teaspoon garlic powder
1 cup coconut milk, full fat
1 omega-3 egg
4 cups organic micro greens or mixed greens
1 fresh, ripe organic mango, sliced
4 Tablespoons organic goat cheese, crumbled
Rinse the chicken breasts. Place in a large ziplock bag with the teriyaki sauce, mix until all the chicken is coated. Place in refrigerator for at least 30 minutes. (Do it overnight for even better flavor!)
Preheat oven to 400 degrees F. Lightly grease a baking sheet with coconut oil.
In a shallow bowl combine the almond meal, salt and garlic powder. In another shallow bowl whisk the coconut milk and egg.
Dip each onion ring in the milk mixture and then coat with the almond meal mixture. Place on prepared baking sheet.
Bake for 20 minutes. Remove from oven, flip each onion ring, then return to oven for an additional 10 minutes.
Heat a grill pan and lightly coat with coconut oil. Place the chicken breasts on the grill pan, and cook 4 minutes each side, until there is no longer any pink in the middle.
Remove chicken from heat and slice.
Prepare each plate with a pile of micro greens, sliced mango, goat cheese crumbles, a few onion rings and then top with teriyaki chicken.
Nutritional Analysis: One serving equals: 366 calories, 2g fat, 268mg sodium, 23g carbohydrate, 4g fiber, and 40g protein
Chicken Soup with Quinoa & Roasted Red Peppers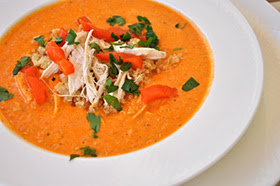 By using flavorful ingredients, like roasted red bell peppers and white bean hummus, this soup tastes like you slaved over it all afternoon– but really takes less than 20 minutes to throw together. This recipe is a great way to fit some quinoa into your diet. Quinoa is a protein-packed seed that is considered a "super food". It's s a complete protein, containing all 9 essential amino acids, and is gluten free.
Servings: 5
Here's what you need:
1 cup roasted red bell peppers
3/4 cup white bean hummus
2 cups chicken stock
1/2 cup cooked quinoa
1 cup shredded rotisserie chicken
dash salt and pepper
2 Tablespoons parsley, chopped
Take 1/4 cup of the roasted red peppers, slice into strips and set aside.
Place the remaining red peppers in a blender along with the hummus and chicken stock. Blend until smooth.
Transfer to a medium saucepan. Add the quinoa and chicken. Season with salt and pepper.
Bring to a boil.
Ladle the soup into bowls and garnish with the slices of red pepper and chopped parsley.
Nutritional Analysis: One Serving equals: 248 calories, 11g fat, 644mg sodium, 14g carbohydrate, 3g fiber, and 20g protein