Cleansing Squash Soup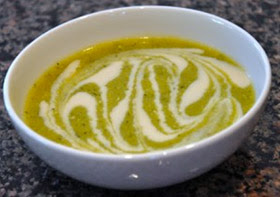 This simple, cleansing squash soup recipe is an amazing recipe to rely on this holiday season for two reasons…
First, it's the perfect light meal to eat before you go out to your holiday party. You'll make better food choices and will have less room for the fattening foods when you've already filled up on this guilt-free soup.
Secondly, this soup makes a wonderful day-after-the-big-party meal, when you want to keep things low-calorie, simple and cleansing. It freezes well, so make lots and save some for later. Servings: 6 
Here's what you need…
Nonstick cooking spray
1 red onion, chopped
6 cups vegan vegetable broth
3 green zucchini, chopped
3 yellow zucchini, chopped
dash of salt and pepper
12 oz frozen butternut squash, defrosted
1 cup unsweetened coconut milk
juice from 1/2 a lemon
dab of plain Greek yogurt
Spray the bottom of your soup pot with nonstick spray, and sauté the onion until soft. Add the broth, zucchini, salt and pepper and cook until zucchini is soft.
Use your hand blender and puree the soup until smooth. Add the butternut squash.
Remove from heat, add milk and lemon juice.
Put a dab of yogurt in each bowl and swirl with a spoon.
Nutritional Analysis: One serving equals: 122 calories, 1g fat, 402mg sodium, 26g carbohydrate, 3g fiber, and 5g protein
South-Of-The-Border Chicken & Rice Soup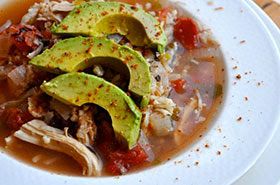 A bowl of this homemade soup is a wonderful meal to enjoy during the holidays. It's low carb and filled with protein and veggies to power your day and curb your cravings. Best of all it's made in the slow cooker, so preparation is quick and easy.Servings: 8 
Here's what you need…
2 organic, free range chicken breasts
1 (28oz) can diced, fire roasted tomatoes
1 (4oz) can green chiles, chopped
1 yellow onion, chopped
2 cloves garlic, minced
1 head cauliflower, shredded
32 oz organic, free range chicken broth
2 teaspoons ground cumin
dash of sea salt and pepper
1/4 cup fresh cilantro, chopped
2 avocados
Tajin seasoning for garnish
Combine all of the ingredients, except the cilantro, avocado and tajin, in a slow cooker. Cover and cook on high for 3 hours.
Remove the chicken breasts from the slow cooker. Shred with a fork and then return to the slow cooker.
Garnish each bowl with a sprinkle of cilantro, a few slices of avocado and a dash of tajin. Enjoy!
Nutritional Analysis: One serving equals: 153 calories, 6g fat, 321mg sodium, 14g carbohydrate, 7g fiber, and 10g protein.
Chili Spiced Nuts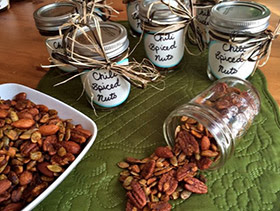 A warm bowl of these chili spiced nuts make a fantastic appetizer or snack to serve at your holiday function. The spice combo is so good, try not to eat them all before your guests arrive! A jar of these would also make a wonderful hostess gift, free of preservatives or harmful ingredients.Servings: 20
Here's what you need…
1 cup raw pecan halves
1 cup raw pepitas
1 cup shelled pistachios
1 cup raw almonds
3 Tablespoons coconut oil, melted
3 Tablespoons coconut sugar
1 teaspoon sea salt
1 teaspoon smoked paprika
1 teaspoon ground cumin
1 teaspoon chili powder
1/4 teaspoon ground ginger
1/2 teaspoon garlic powder
Preheat the oven to 325 degrees F. Lightly grease a rimmed baking sheet with coconut oil.
In a large bowl combine all of the nuts with the coconut oil. Toss to coat.
In another bowl, combine the remaining ingredients. Mix well and then sprinkle over the nuts, mixing until fully combined.
Spread the nuts over the prepared baking sheet. Bake for 10 minutes, stir, and then bake for an additional 10 minutes until golden and toasty.
Nutritional Analysis: One serving equals: 168 calories, 14 fat, 78mg sodium, 6g carbohydrate, 3g fiber, and 5g protein.
Japanese Chicken Stir Fry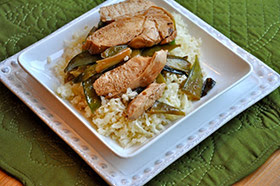 This recipe meets all 5 of the steps to a healthy dinner. By baking the chicken and using cauliflower for rice, this recipe has half of the calories and 80% less fat than a traditional stir fried chicken meal. Servings: 4
Here's what you need…
1 head cauliflower
1/4 cup coconut aminos
1/4 cup mirin (sweet rice wine)
1 Tablespoon coconut nectar
1 Tablespoon apple cider vinegar
2 Tablespoons organic chicken broth
3 teaspoons sesame oil, divided
1 pound skinless, boneless chicken breasts
8 ounces snow peas, halved lengthwise diagonally
1 bunch green onions, cut into 1-inch pieces
Wash cauliflower, discard the leaves, and chop into small pieces. Grate the pieces with a food processor. In a large skillet heat the coconut oil over medium. Add the shredded cauliflower. Sauté for about 5 minutes, until tender. Season with salt and pepper. Serve as you would traditional rice.
Combine coconut aminos, mirin, coconut nectar, apple cider vinegar and chicken broth in a small saucepan; bring to a boil. Reduce heat; simmer 3 minutes. Remove from heat.
Heat a large nonstick skillet or wok over medium-high heat. Add 2 teaspoons toasted sesame oil to pan; swirl to coat. Add chicken breasts to pan; cook 3 minutes on each side or until browned. Transfer to a cutting board; cool slightly. Cut into 1-inch slices.
Return pan to medium-high heat; add remaining 1teaspoon toasted sesame oil to pan. Add snow peas and onions; saute 2 minutes. Add coconut amino mixture and chicken to pan; cook 2 minutes or until liquid is syrupy and chicken is thoroughly heated, stirring frequently. Place 1 cup rice in each of 4 shallow bowls; top each serving with 1 cup chicken mixture.
Nutritional Analysis: One serving equals: 256 calories, 6g fat, 621mg sodium, 25g carbohydrate, 6g fiber, and 28g protein.
Easy Baked Pesto Zucchini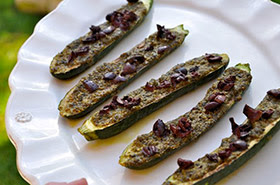 Here's a simple, delicious vegetable side dish that your whole family will love. It's a great way to increase the fiber content of your meal. Simply add a serving of lean protein and you have a wonderfully fit meal.
Servings: 4

Here's what you need…
4 small, organic zucchini
1/4 cup kalamata olives, seeded and chopped
For the Pesto:
1/4 cup raw pecans
1 cup fresh basil leaves
2 cloves garlic, chopped
2 Tablespoons olive oil
1/4 cup nutritional yeast
1 teaspoon lemon juice
1/2 teaspoon sea salt
Preheat the oven to 450 degrees F. Combine the pesto ingredients in a food processor until creamy.
Trim the ends from the zucchinis and slice in half the long way. Carefully score the flesh with short diagonal cuts.
Heat a grill pan over medium-high heat. Brush a little olive oil on the flat side of each zucchini and place the flat side down on the hot pan. Cook until the flat side is browned and the zucchini is starting to soften, about 4 minutes. Transfer the zucchini to a baking pan.
Spread a Tablespoon of pesto on each zucchini slice and sprinkle with the olives. Place in the preheated oven for 8-12 minutes, until tender. Enjoy!
Nutritional Analysis: One serving equals: 152 calories, 10g fat, 140mg sodium, 11g carbohydrate, 4g fiber, and 6g protein.