Crispy Orange Chicken
Who doesn't love crispy orange chicken? Forget the restaurant. Now you can stay in and make it yourself at home. Rest assured that this meal is filled with healthy ingredients that will not derail your fitness results.
What you need
Serves 6
1/2 cup orange juice concentrate (fruit only)
3 Tablespoons coconut aminos
1 Tablespoon olive oil
Zest from one orange
3 cloves garlic, minced
Dash red pepper flakes
2 packets Stevia
1 tablespoon coconut oil
2.5 lbs boneless skinless chicken thigh, cut into bite sized pieces
Dash salt and pepper
Dash granulated onion
1 tablespoon sesame seeds
3 green onions, chopped
Instructions
1. Combine the orange juice concentrate, coconut aminos, olive oil, orange zest, red pepper flakes and Stevia in a small bowl. Mix well and set aside.
2. In a large skillet, heat the coconut oil on medium-high.
3. Generously season the chicken pieces with salt, pepper and granulated onion. Add chicken to hot skillet and brown on all sides.
4. When chicken is almost fully cooked, add the orange sauce, stirring to coat all of the chicken. Cook, uncovered, simmering the sauce until thickened and fully sticking to the chicken.
5. Garnish with sesame seeds and freshly chopped green onion.
Nutrition
One serving equals 282 calories, 12g fat, 505mg sodium, 12g carbs, 1g fiber, 35g protein
Festive Hummus (Sun-Dried Tomato and Basil)
While the red and green speckles give this homemade hummus a jolly look, it's the taste that makes it unforgettable. This dip makes the perfect party take-along. Serve it up with whole grain pita bread or fresh cut veggie sticks.
What you need
Serves 12
1 (15 oz) can garbanzo beans
1 Tablespoons tahini
1 Tablespoon olive oil
1 Tablespoon lemon juice
1 Tablespoon water
2 garlic cloves, mashed
1/4 teaspoon salt
2 teaspoons soy sauce
4 sun-dried tomatoes
1/4 cup basil leaves
Instructions
1. Throw all the ingredients into a food processor and combine until smooth.
Nutrition
One serving equals 75 calories, 2g fat, 11g carbohydrate, 3g fiber, and 3g protein.
Sweet Garlic Slow Cooker Chicken
Slow cooker meals are a fantastic method for enjoying lean, homemade dinners without the hassle and time commitment that many recipes entail. By simply throwing the ingredients below into your slow cooker in the morning before you leave for work, you'll have a hot, delicious meal ready for you when you return home!
The combination of soy sauce, ketchup, garlic and dried basil lend phenomenal flavor to tender chicken thigh in this too-easy-to-believe chicken dinner recipe. Serve with a salad made with dark greens and over a bed of cauliflower rice. Enjoy!
What you need
Serves 8
3 lbs boneless, skinless chicken thighs
sea salt
black pepper
½ cup low sodium soy sauce
½ cup ketchup
¼ cup honey
1 Tablespoon garlic, minced
1 teaspoon dried basil
*optional sesame seeds for garnish
Instructions
1. Generously salt and pepper the chicken thighs. Place in the bottom of a slow cooker.
2. Combine the soy sauce, ketchup, honey, garlic and dried basil. Pour over the chicken. Cover and cook on low for 6 hours. Garnish with sesame seeds. Enjoy!
Nutrition
One serving equals 371 calories, 12g fat, 314mg sodium, 11g carbohydrate, 3g fiber, and 50g protein
Low Carb Mac and Cheese
Say what?! Mac and cheese without the traditional noodles! This is a recipe that kids and adults alike will love! Spaghetti squash is a fantastic replacement for traditional noodles – make it a habit to use these tender, squash noodles in all of your favorite pasta recipes. Enjoy!
What you need
Serves 6
1 large spaghetti squash
1 teaspoon olive oil
Sea salt
Black pepper
2 cups broccoli florets, steamed
1 Tablespoon coconut oil
1 Tablespoon coconut flour
1 cup coconut milk
1 cup reduced-fat cheddar cheese, shredded
½ cup grated parmesan, plus 1 teaspoon grated Parmesan as optional garnish
Salt and pepper, to taste
1 teaspoon red pepper flakes, optional garnish
Instructions
1. Preheat oven to 400ºF. Cut the spaghetti squash in half. Scoop out and discard the seeds. Spray the center of both halves of the squash with cooking spray, and place the cut side up on a cookie sheet. Roast until tender when pierced with a knife, about 50 minutes.
2. Remove the squash from the oven, and let cool. Once it's safe to handle, scrape the flesh into a large bowl. Add the steamed broccoli florets to the bowl, and set aside.
3. In a large saucepan, melt the coconut oil on medium heat, and whisk in the coconut flour. Add the coconut milk, and whisk quickly. Turn heat down to low, add the cheddar and ½ cup grated Parmesan to the saucepan, and stir until melted. Remove from heat.
4. Pour the cheese sauce over the spaghetti squash and broccoli mixture, and toss until all the squash is covered.
5. Dish into 4 portion, and top off with the salt and pepper to taste plus red pepper flakes and extra Parmesan if you wish!
Nutrition
One serving equals 290 calories, 23g fat, 360mg sodium, 10g carbohydrate, 2g fiber, and 14g protein
South-Of-The-Border Chicken & Rice Soup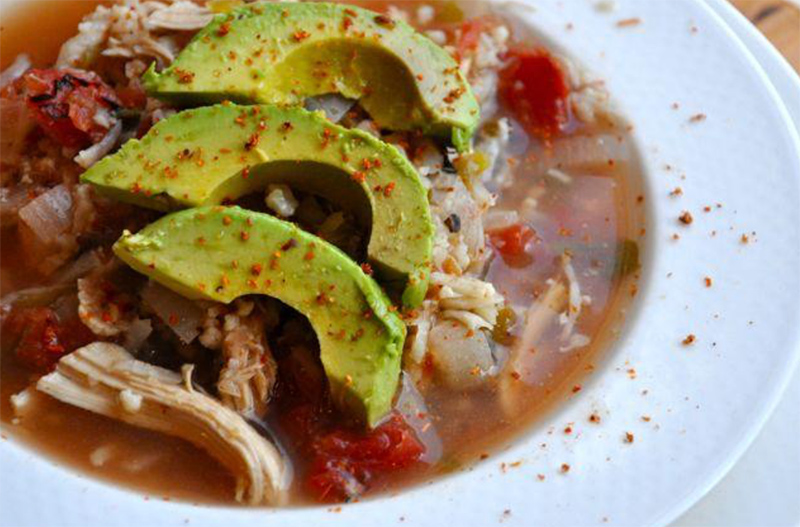 A bowl of this homemade soup is a wonderful meal to enjoy during the holidays. It's low carb and filled with protein and veggies to power your day and curb your cravings. Best of all it's made in the slow cooker, so preparation is quick and easy.
What you need
Serves 8
2 organic, free range chicken breasts
1 (28oz) can diced, fire roasted tomatoes
1 (4oz) can green chiles, chopped
1 yellow onion, chopped
2 cloves garlic, minced
1 head cauliflower, shredded
32 oz organic, free range chicken broth
2 teaspoons ground cumin
dash of sea salt and pepper
¼ cup fresh cilantro, chopped
2 avocados
Tajin seasoning for garnish
Instructions
1. Combine all of the ingredients, except the cilantro, avocado and tajin, in a slow cooker. Cover and cook on high for 3 hours.
2. Remove the chicken breasts from the slow cooker. Shred with a fork and then return to the slow cooker.
3. Garnish each bowl with a sprinkle of cilantro, a few slices of avocado and a dash of tajin. Enjoy!
Nutrition
One serving equals 178 calories, 11g fat, 414mg sodium, 20g carbohydrate, 6g fiber, and 25g protein.