Fast Apple Ring Pancakes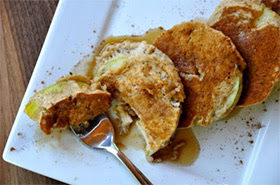 These apple ring pancakes are gluten free and higher in fiber than traditional pancakes. It's pretty awesome to be able to enjoy a pancake and still see results! Just exercise portion control and skip the syrup. Servings: 6
Here's what you need…
1/3 cup coconut flour
1/4 cup flax meal
2 dates, pitted
2 teaspoons baking powder
1 teaspoon ground cinnamon
1/4 teaspoon ground nutmeg
1/4 teaspoon sea salt
1/2 banana
1 cup coconut milk
2 eggs
1 teaspoon vanilla extract
2 teaspoons lemon juice and zest
3 green apples, washed, cored, and cut into six slices
Preheat a pancake griddle and lightly grease with coconut oil.
Combine all the ingredients, except the apple slices, in a food processor and mix until fully combined. Pour the batter into a shallow bowl.
Dip each sliced apple ring into the batter, and rub to fully cover it. Transfer to the preheated griddle and cook as you would a regular pancake. Repeat with all of the apple slices. Serve with a little sprinkle of cinnamon. Enjoy!
Nutritional Analysis: One serving equals: 258 calories, 12g fat, 90mg sodium, 32g carbohydrate, 9g fiber, and 6g protein.
Spinach & Egg White Wrap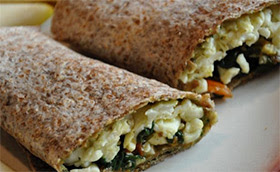 This wrap is delicious for breakfast, lunch or dinner. It's ready in a flash, tastes amazing, and is filled with lean protein, veggies and whole sprouted grains. Try it today, but don't be surprised if you get hooked! Servings: 2
Here's what you need:
1 teaspoon olive oil
1 garlic clove, minced
1/4 cup tomato, finely chopped
2 cups spinach, roughly chopped
1 cup egg whites
dash of salt and pepper
2 sprouted grain tortillas
2 Tablespoons pesto (purchase it pre-made, or combine ½ cup walnuts, 2 cups basil leaves, 2 cloves garlic, ¼ cup olive oil, and 1 Tablespoon lemon
juice in a food processor and blend until it becomes a paste.)
Spread a tablespoon of pesto over each tortilla and set aside.
In medium sized skillet warm the olive oil over medium heat. Add the garlic and sauté until golden. Add the tomato and cook for another 3 minutes.
Add the spinach and cook until it is soft and wilted. Remove the veggies from skillet, set aside in a bowl.
Pour the egg whites into the skillet, season with salt and pepper. Cook until the egg is no longer runny.
Arrange half of the egg whites in a line down the center of each tortilla. Top with half of the veggies and then fold the ends up and wrap like a burrito.
Nutritional Analysis: One serving equals: 288 calories, 10g fat, 28g carbohydrate, 6g fiber, and 21g protein.
Festive Hummus (Sun-Dried Tomato and Basil)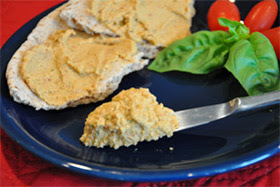 While the red and green speckles give this homemade hummus a jolly look, it's the taste that makes it unforgettable. This dip makes the perfect party take-along. Serve it up with whole grain pita bread or fresh cut veggie sticks. Yield: 12 servings
Here's what you need:
1 (15 oz) can garbanzo beans
1 Tablespoons tahini
1 Tablespoon olive oil
1 Tablespoon lemon juice
1 Tablespoon water
2 garlic cloves, mashed
1/4 teaspoon salt
2 teaspoons soy sauce
4 sun-dried tomatoes
1/4 cup basil leaves
Throw all the ingredients into a food processor and combine until smooth.
Nutritional Analysis: One serving equals: 55 calories, 2g fat, 6g carbohydrate, 2g fiber, and 2g protein.
Pumpkin & Zucchini Muffins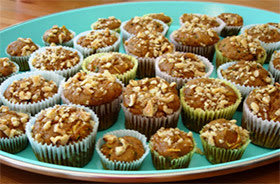 Don't let the rich flavor and mouthwatering moistness of these muffins fool you. You'll have a hard time convincing anyone, but this recipe was modified to include less fat and sugar than the original. This is a great treat to share at holiday parties.
Servings: 40 mini muffins 
Here's what you need…
3 eggs, lightly beaten
2/3 cup raw honey
1 cup canned pumpkin
1/2 cup coconut oil, melted
7 oz applesauce
1 tablespoon vanilla extract>
3 cups almond flour
1 teaspoon baking soda
1/2 teaspoon baking powder
1/2 teaspoon salt
1/2 teaspoon ground cinnamon
1/2 teaspoon ground nutmeg
1/2 teaspoon ground cloves
1 cup shredded zucchini
1/4 cup chopped walnuts
Preheat oven to 350 degrees and line a mini muffin pan with paper baking cups, or use non-stick cooking spray.
In a mixing bowl combine eggs and honey. Add pumpkin, melted coconut oil, applesauce, and vanilla.
In a separate bowl combine all of the dry ingredients. Gradually add dry ingredients to pumpkin mixture and mix until well combined. Stir in the zucchini.
Pour into muffin tins, sprinkle the tops with chopped walnuts. Bake for 10-20 minutes or until you can poke a toothpick in a muffin and it comes out clean. Cool in the pan for 10 minutes.
Nutritional Analysis: One mini muffin equals: 92 calories, 3g fat, 15g carbohydrate, 1.5g fiber, and 2g protein.
Easy Roasted Broccoli & Cauliflower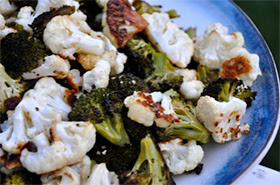 Here's an awesome recipe for roasted broccoli and cauliflower that is quick to make and tastes great. Serve this with a piece of lean meat for a well-balanced, fitness approved meal.
Makes: 4 Servings
Here's what you need…
1 bunch broccoli
1 bunch cauliflower
1 Tablespoon olive oil
dash of sea salt
dash of pepper
4 garlic cloves, minced
juice from 1 lemon
Preheat your oven to 425 degrees F. Lightly grease a large baking sheet with olive oil.
Wash the broccoli and cauliflower heads and then pat dry. It's important to dry thoroughly so that it will roast properly. Cut into small florets.
In a medium bowl combine the florets, olive oil, salt, pepper and garlic cloves. Toss until well combined and then spread over the prepared baking sheet.
Roast for 25 minutes, stirring halfway through. Remove from oven once the florets are tender with crispy bottoms.
Drizzle the lemon juice over the cooked florets and serve immediately.
Nutritional Analysis: 160 calories, 4g fat, 98mg sodium, 8g carbohydrate, 4g fiber, and 4g protein