Roasted Cauliflower Steak
​This is such a simple recipe and yet it yields so much satisfaction! If you love salty foods like chips or crackers then this Cauliflower recipe may be the guilt-free snack that you've been searching for.I like to slice the cauliflower into large slabs, like steaks, however be aware that not all of the pieces will stick together. That's perfectly fine! Smaller pieces of roasted, seasoned cauliflower taste just as delicious as the larger pieces.
Enjoy these Roasted Cauliflower Steaks as a side dish for your next meal or eat it as a delicious and guilt free snack!
Courtesy of RealHealthyRecipes.com
Servings: 30
Here's what you need
1 head cauliflower, cut into ¼ inch thick slices
olive oil spray
salt and pepper
All-Purpose Seasoning
Instructions
Preheat oven to 375 degrees. Lightly spray a rimmed baking sheet with olive oil.
Slice the cauliflower into ¼ inch slices. Lightly spray each side with olive oil and sprinkle with salt, pepper and all-purpose seasoning. Lay the pieces out on the prepared baking sheet.
Bake in the preheated oven, flipping the pieces after 15 minutes, for a total of 30 minutes. Enjoy!
Nutritional Analysis
One serving equals: 18 calories, 0g fat, 3g carbohydrate, 1g sugar, 128mg sodium, 2g fiber, and 1g protein.
Easy Veggie Skillet
This mixture of tender veggies is perfect for packed meals for the week. The savory and tangy flavor element from the vinegar adds the perfect amount of kick to liven up a serving of protein.
One of the reasons that I chose these three particular vegetables (red onions, mushrooms, and asparagus) was because it will last all week in the fridge without getting soft, soggy or otherwise undesirable. In fact, the flavors intensify over a few days and you can continue to enjoy the same batch all week!
Courtesy of RealHealthyRecipes.com
Servings: 8
Here's what you need
2 teaspoons olive oil
1 red onion, halved and sliced
2 bunches Asparagus, trimmed and cut into 1-inch segments
4 cups white mushrooms, stems removed and sliced
¼ cup white wine
sea salt and black pepper
Instructions
Place a large skillet over medium-high heat and add the olive oil. Once hot, add the onion and sauté for 4 minutes.
Add the asparagus and sauté for another 4 minutes.
Add the mushrooms and vinegar and continue to sauté for another 4 minutes. Season generously with salt and pepper and continue to sauté until the liquid is gone and the veggies are tender and flavorful. Enjoy!
Nutritional Analysis
One serving equals: 43 calories, 2g fat, 5g carbohydrate, 2g sugar, 4mg sodium, 2g fiber, and 3g protein.
Slow Cooker Pulled Chicken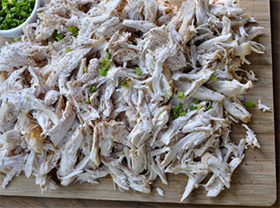 Having healthfully prepared protein on hand for on-the-go meals is a MUST when it comes to packing healthy meals to eat throughout your day. Put 4 to 6 ounces of protein (like this amazing pulled chicken!), a handful of cooked veggies and a handful of fresh arugula in a little Tupperware and drizzle on a bit of homemade balsamic dressing for a simple, quick, get-lean meal.
Eating small meals every few hours consisting of protein and veggies is the most reliable way that I know of to drop body fat and maintain a steady flow of energy throughout the day. It's pretty darn tasty too, when you make the meals yourself!
Courtesy of RealHealthyRecipes.com
Servings: 4
Here's what you need
2 ½ lbs bone-in, skin-on chicken breasts
1 ½ teaspoon sea salt
½ teaspoon black pepper
1 cup chicken broth
1 Tablespoon tomato paste
½ teaspoon sweet paprika
1 teaspoon minced garlic
2 bay leaves
Instructions
Rinse the chicken breast and pat dry. Season with the salt and pepper on all sides.
In a slow cooker, whisk the chicken broth, tomato paste, paprika and garlic. Add the seasoned chicken breast and the bay leaves. Cover and cook on high for 3 hours, flipping the chicken after 1 hour.
Transfer the chicken to a cutting board and let cool for 20 minutes. Strain the broth. Use two forks to gently shred the chicken, discarding skin, fat, cartilage and bones. Store the chicken and broth separately in the fridge to use for up to 4 days. Enjoy!
Nutritional Analysis
One serving equals: 191 calories, 5g fat, 3g carbohydrate, 1g sugar, 960mg sodium, 0g fiber, and 34g protein.
Dijon Chicken with Sweet Potato and Green Beans En Papillote
One of the biggest complaints that many people have about chicken breast dinners is that the meat tends to turn out dry or overcooked. Then they are forced to choke down a dinner they know is healthy, but isn't pleasant and certainly won't motivate them to eat it again.
This simple recipe for cooking in parchment paper packets is a foolproof way to inject tenderness and moisture into chicken breast, without any fancy time consuming techniques. By wrapping veggies and protein together with flavors and some liquid, the chicken cooks in the steam that is built up in the packet. This flavorful steam ensure a perfectly moist, perfectly flavorful chicken dinner – every single time!
In this recipe the sweet and tangy flavors of mustard, stevia and rosemary mingle with tender sweet potato, fresh green beans and moist chicken breast. Enjoy!
Courtesy of RealHealthyRecipes.com
Servings: 4
Here's what you need
2 Tablespoons shallot, minced
3 Tablespoons whole grain mustard
2 Tablespoon Dijon mustard
¼ teaspoon liquid stevia (or 1 teaspoon honey)
1 teaspoon olive oil
2 teaspoon fresh rosemary, minced
1 Tablespoon chicken broth
1 cup sweet potato, peeled and cubed
1 cup fresh green beans, trimmed and cut into 1 inch pieces
4 thin sliced chicken breasts
sea salt and black pepper
1 Tablespoon chives, minced
Instructions
Preheat the oven to 400 degrees F.
In a small bowl combine the shallots, whole grain mustard, Dijon mustard, stevia, olive oil, rosemary and chicken broth. In a large bowl toss the sweet potatoes and green beans with half of the marinade. Rub the remaining marinade over the chicken breasts.
Cut four 12-by-16-inch pieces of parchment paper and fold each in half. Open the parchment paper and arrange ¼ of the sweet potato and green beans and a chicken breast in the center of the top half of each parchment. Generously season with salt and pepper. Top with a sprinkle of chives.
Fold the bottom half of the parchment paper over the chicken and veggies. Start folding and crimping the parchment paper ends together from one end all the way around to the other end, creating a sealed envelope. Fold the end under the packet. The packet should be fully encased, with no breaks in the parchment paper for steam to escape – we need that steam as part of the cooking process! Place the packets on a pan.
Bake the chicken and veggie packets for 30 minutes and remove from the oven. Serve the packets on plates, tearing them open just before serving. Enjoy!
Nutritional Analysis
One serving equals: 270, 11g fat, 15g carbohydrate, 4g sugar, 320mg sodium, 3g fiber, and 35g protein.