This oatmeal is packing a powerful ingredient – protein. Mix a scoop of your favorite protein powder into your oatmeal to transform it into a quick and healthy breakfast. Servings: 1 
Here's what you need…
1/2 cup whole grain oats
1 cup water
dash of salt
1 scoop high quality protein
1 tablespoon chopped macadamia nuts
1 tablespoon golden raisins
Mix the oats, water and salt together in a microwave safe bowl. Microwave on high for 2 to 4 minutes.
Stir in protein, top with nuts and raisins.
Nutritional Analysis: One serving equals: 325 calories, 7g fat, 41.7g carbohydrate, 10.2g fiber, and 25.7g protein.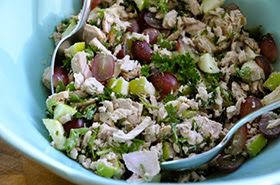 Here's a simple and light version of tuna salad. It cuts out high-calorie mayonnaise and adds some chopped fruit and vegetables to really liven it up. This is a great recipe to enjoy as you journey towards your fitness goal. Servings: 4 
Here's what you need…
1 green apple, chopped
2 green onions, tops only, chopped
1/4 cup fresh parsley, chopped
2 cans albacore tuna, in drained
1 Tablespoon dijon mustard
1/4 cup coconut oil, melted
1/4 cup red grapes, halved
sea salt and pepper to taste
Mix all of the ingredients in a large bowl and serve immediately. I like to serve this salad in large butter lettuce leaves, or scooped onto avocado halves. Enjoy!
Nutritional Analysis: One serving equals: 222 calories, 16g fat, 9g carbohydrate, 194g fiber, and 14g protein.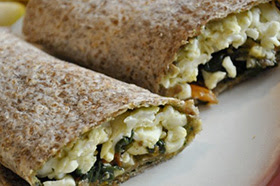 This wrap is delicious for breakfast, lunch or dinner. It's ready in a flash, tastes amazing, and is filled with lean protein, veggies and whole sprouted grains. Try it today, but don't be surprised if you get hooked! Servings: 2 
Here's what you need:
1 teaspoon olive oil
1 garlic clove, minced
1/4 cup tomato, finely chopped
2 cups spinach, roughly chopped
1 cup egg whites
dash of salt and pepper
2 sprouted grain tortillas
2 Tablespoons pesto (purchase it pre-made, or combine 1/2 cup walnuts, 2 cups basil leaves, 2 cloves garlic, 1/4 cup olive oil, and 1 Tablespoon lemon juice in a food processor and blend until it becomes a paste.)
Spread a tablespoon of pesto over each tortilla and set aside.
In medium sized skillet warm the olive oil over medium heat. Add the garlic and sauté until golden. Add the tomato and cook for another 3 minutes. Add the spinach and cook until it is soft and wilted. Remove the veggies from skillet, set aside in a bowl.
Pour the egg whites into the skillet, season with salt and pepper. Cook until the egg is no longer runny.
Arrange half of the egg whites in a line down the center of each tortilla. Top with half of the veggies and then fold the ends up and wrap like a burrito.
Nutritional Analysis: One serving equals: 288 calories, 10g fat, 28g carbohydrate, 6g fiber, and 21g protein.
This refreshing summer salad is made with quinoa. Quinoa is a gluten-free, protein-packed seed. It's a complete protein, containing all 9 essential amino acids. Add a side of lean protein to your salad and you've got a highly nutritious, balanced meal. Servings: 6
Here's what you need…
3/4 cup plain non-fat Greek yogurt
2 Tablespoons lime juice, divided
1-15 fresh mint leaves, minced
2 cups cooked quinoa
optional dash of salt and pepper
1 cup blueberries
1 cup green grapes, halved
1/2 cup raspberries
1 teaspoon agave nectar
In a small bowl combine the yogurt, 1 tablespoon lime juice and the mint. Pour over the cooked quinoa and mix well. Season with salt and pepper.
In another bowl combine the fruit, agave nectar and remaining lime juice.
Cover and refrigerate each bowl for 2 hours, to allow the flavors to emerge, then combine the fruit with the quinoa and serve.
Nutritional Analysis: One serving equals: 114 calories, 1 fat, 13mg sodium, 20g carbohydrate, 2.5g fiber, and 6g protein.