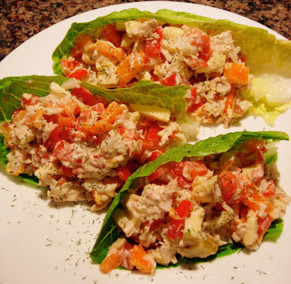 Tasty Tuna Lettuce Wraps
This is an ultra-healthy meal that's quick and easy to throw together. It's high in protein, low in fat and contains lots of healthy fiber. Not to mention it tastes great, so dig right in! Yield: 2 servings
Here's what you need…
1 can albacore chunk tuna, packed in water
2 Tablespoons finely chopped white onion
1/2 red bell pepper, finely chopped
1/2 yellow bell pepper, finely chopped
1/2 apple, finely chopped
2 Tablespoons nonfat mayonnaise
1 Tablespoon nonfat ranch salad dressing
1 teaspoon dried dill
4 large lettuce leaves, washed
Pepper to taste
Combine the tuna, onion, bell pepper, and apple in a medium bowl. In a small bowl mix the mayonnaise, ranch dressing and dill.
Add the mayonnaise mixture to the tuna and mix until well combined.
Arrange the lettuce leaves on two plates, and fill with tuna. Garnish with a dash of pepper.
Nutritional Analysis: One serving equals: 124 calories, 1.5g fat, 13g carbohydrate, 2.7g fiber, and 14g protein.
Egg White Chile Omelet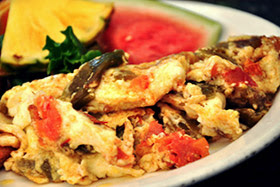 Here's a recipe to spice up your breakfast. Egg whites, fire-roasted green Chile and diced tomatoes create a tasty omelet that is bursting with flavor and packed with protein. Serve with a side of salsa and sliced avocado.
Servings: 2
Here's what you need…
1 teaspoon olive oil
3 small tomatoes, finely chopped
2 (4oz) cans of fire-roasted, diced green chiles
12 egg whites
2 Tablespoons water
Non-stick cooking spray
In a skillet, heat the oil over medium heat. Add the tomatoes and chiles and cook until soft, about 3 minutes. Season with pepper and salt and set aside.
In a medium bowl whisk the egg whites and water. Lightly coat a medium non-stick skillet with non-stick cooking spray and place over medium heat. Add 1/4 of the eggs and swirl to evenly coat the bottom of that pan. Cook until the eggs have set, about 2 minutes.
Use a rubber scraper to lift the eggs up and let the runny uncooked egg flow underneath. Spoon 1/4 of the chile mixture onto half of the omelet, fold over, and slide onto a serving plate. Repeat with remaining egg whites and chile mixture.
Nutritional Analysis: One serving equals: 163 calories, 5g fat, 6g carbohydrate, 2g fiber, and 26g protein.
Mediterranean Turkey Kebabs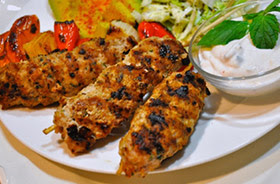 Here's a great recipe for a busy weekday dinner. Ground turkey breast is mixed with Mediterranean spices to create flavorful, protein-packed kebabs. Serve with salad and vegetables and a side of plain Greek yogurt. Servings: 4
Here's what you need:
1 1/2 pounds turkey breast, de-boned, trimmed of skin and cut into thin strips
2 garlic cloves, minced
1 teaspoon olive oil
2 eggs
1/4 cup almond meal (more if needed)
1 teaspoon cumin
1 teaspoon sweet paprika
1/2 teaspoon cinnamon
dash of salt (optional)
2 Tablespoons fresh parsley, finely chopped
1 Tablespoon fresh mint, finely chopped
In a food processor, blend the turkey strips until ground. Add the remaining ingredients and pulse until well blended.
Pre-heat your grill or grill pan.
Lightly grease your hands, then press the meat into the wooden skewers until it covers about 3-4 inches in an elongated meatball shape. If the meat is not sticking then add some more almond meal.
Grill for about 8 minutes per side.
Nutritional Analysis: One serving equals: 254 calories, 8g fat, 156mg sodium, 2g carbohydrate, 1g fiber, and 47g protein
Grilled Salmon and Peach Salad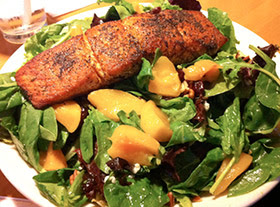 This recipe makes a perfect flat-abs meal. Fresh greens, grilled peaches and tender salmon make a mouthwatering combination. Enjoy for lunch or dinner.
Servings: 1
Here's what you need:
2 cups mixed greens
1/4 cup grilled peaches
1 Tablespoon blue cheese crumbles
1 Tablespoon dried cranberries
1 Tablespoon light salad dressing
7 oz grilled salmon
Toss the greens, peaches, blue cheese, and cranberries in a bowl with salad dressing. Top with grilled salmon.
Nutritional Analysis: One serving equals: 365 calories, 14g fat, 404mg sodium, 15g carbohydrate, 2g fiber, and 39g protein.