Tropical Chopped Chicken Salad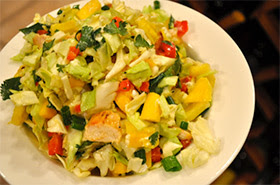 When you lift weights it's important to get a healthy intake of protein at each meal. Combining chicken and vegetables, like in this tropical salad, is one of the healthiest ways that you can eat. Your fitness results will flourish when meals like this become a regular part of your life. 
Servings: 5  Here's what you need:
4 skinless chicken breast, organic and vegetarian fed
Bolthouse Farms Tropical Mango Olive Oil Vinaigrette
1 head cabbage, chopped
1 red bell pepper, chopped
1 mango, chopped
1/2 cup pineapple, chopped
1 bunch cilantro, chopped
1/3 cup green onions, chopped
Rinse the chicken breasts and place in a large ziplock bag. Pour in enough of the Mango Vinaigrette to fully cover the chicken. Place in the fridge for at least 4 hours.
Preheat oven to 350 degrees F and grease a pan with coconut oil.
Bake the marinated chicken breasts for 30 minutes until cooked through, then turn on the broiler for 3-5 minutes until deeply golden. Chop and set aside.
In a large bowl combine all of the remaining ingredients along with the chopped chicken. Drizzle a little of the mango vinaigrette and mix well.
Nutritional Analysis: One serving equals: 240 calories, 3g fat, 285mg sodium, 23g carbohydrate, 6g fiber, and 29g protein
Slow Cooker Chicken Breast with Figs and Squash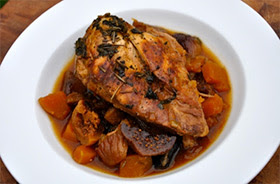 A slow cooker is a wonderful tool to prepare meals of protein and vegetables with very little labor. Most slow cooker recipes simply require that you chop and gather all of the ingredients into the slow cooker in the morning, and then the food cooks all day while you are away. The chicken and squash in this recipe turn out deliciously moist and flavorful. 
Servings: 6Here's what you need:
1 Tablespoon olive oil
1 small red onion, chopped
1 small yellow onion, chopped
3 garlic cloves, minced
3 lbs organic, boneless, skinless chicken breasts
salt and pepper
12 dried figs, chopped 1 cup butternut squash, chopped
1 cup chicken broth
1 teaspoon dried rosemary
2 Tablespoons fresh tarragon, chopped
i2 Tablespoons fresh sage, chopped
In a large skillet place the olive oil over medium heat. Add the onions and garlic and sauté for 5 minutes.
Rinse the chicken and pat dry. Season with salt and pepper. Add to the skillet, browning each side for about 5 minutes.
Transfer the contents of the skillet to your slow cooker and top with the remaining ingredients.
Cook on low for 6 hours
Nutritional Analysis: One serving equals: 389 calories, 7g fat, 400mg sodium, 27g carbs, 2g fiber, and 48g protein
Cajun Veggie Chips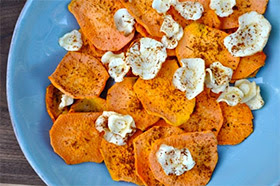 Here's a nutritious way to enjoy some crunchy, tasty chips. By thinly slicing and baking vegetables, you're able to get your chip fix without tanking your 
fitness
 results. Make a large batch on the weekend and portion your veggie chips out into ziplock bags for the week. 
Servings: 4 Here's what you need:
2 lbs of root vegetables, thinly sliced (sweet potato, parsnips, beets or carrots)
Sea salt
Cajun spice
Preheat the oven to 375 degrees F. Line a rimmed baking sheet with parchment paper.
Thinly slice the root vegetables with a mandoline slicer, to 1/8 inch thickness. Toss the sliced veggies with a sprinkle of sea salt and Cajun spice.
Spread the sliced veggies over the prepared baking sheet. Roast for 20 minutes, or until crispy. Enjoy!
Nutritional Analysis: One serving equals: 139 calories, 0g fat, 287mg sodium, 22g carbs, 8g fiber, and 3g protein
Taco Egg Muffins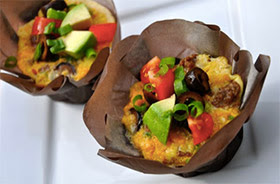 Egg muffins are a wonderful, protein-packed, on-the-go meal that are easy to make on the weekend for quick meals all week long. This version of egg muffins takes all of the delicious flavors of taco night and packs it into a guilt-free, low carb meal. Reach for one of these Taco Egg Muffins instead of a high carbohydrate snack and watch how quickly your body begins to transform. 
Servings: 6 Here's what you need:
½ lb ground beef
½ teaspoon chili powder
¼ teaspoon sweet paprika
¼ teaspoon cumin
¼ teaspoon onion powder
Pinch of garlic powder
Dash of sea salt
6 organic, free range eggs
2 green onions, finely chopped
Handful of sliced olives
1 tomato, chopped
Preheat oven to 350 degrees F. Line 12 muffin tins with paper liners or grease with coconut oil.
In a skillet brown the beef over medium heat. Add in the chili powder, paprika, cumin, onion powder, garlic powder and sea salt. Remove from heat and drain.
In a bowl, mix up the eggs, add the browned, seasoned beef, chopped green onions, sliced olives and chopped tomato. Fill 6 muffin tins.
Bake for 20-22 minutes, or until the egg is fully set. Enjoy!
Nutritional Analysis: One serving equals: 184 calories, 13g fat, 225mg sodium, 10g carbs, 5g fiber, and 9g protein