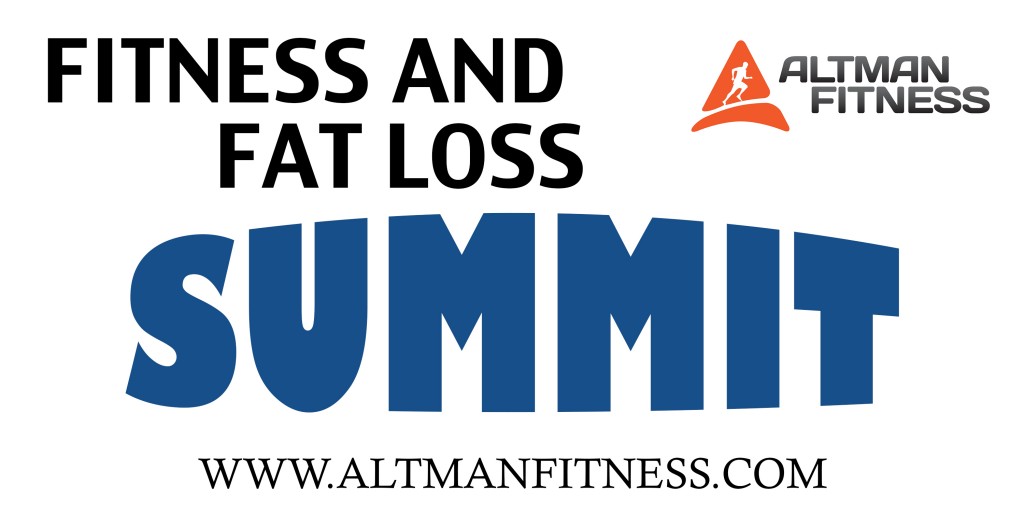 From: Jay Altman
Dear Success Minded Fitness Enthusiast,
IF YOU'RE SERIOUS about your fitness and fat loss results above any and all factors that may be limiting your success then I suggest you take a few minutes to read this URGENT and Time-Sensitive message because it directly affects your life.
"There has NEVER been a more important time to grow, solidify, strengthen, and perhaps even re-invent your life than NOW if you want to stay ahead of weight gain, fitness and fat loss myths and the changing world we live in. When you attend Fitness and Fat Loss Summit 14 you'll learn how to…"
AVOID Success-Killing Errors that you're likely making today that are costing you time, money, and energy.
Avoid being left behind by getting the most cutting edge, science backed fitness and fat loss getting tactics that are working today.
SOLVE the challenges and growing pains that come with building a life so that you can spend more time with your family/friends and enjoy your life rather than dealing with frustrations and uncertainty.
The IMPORTANCE of all this is pretty simple: you need to create a reliable, consistent, and healthy life for yourself and your family. Further, you need to protect yourself from the fitness and fat loss myths that are being marketed to you, so you need to be "fully equipped" to know the truth while huge numbers around you falter and fail.
How to Get Out From Behind The 8-Ball…
Look, you're behind the 8-ball right now. You're using old and/or ineffective techniques and it's just not working for you. Worse yet, you're being sold a whole bunch of BS untested and unverified "fitness and fat loss magic bullets" by unscrupulous fly by night "experts" who know nothing about fitness and fat loss, let alone build a life that's fulfilling. But the presenters at Fitness and Fat Loss Summit are different. They're not just experts or gurus. They're real fitness and or fat loss experts who have mastered the art of getting results, stimulating fitness, commanding fat loss, and building reliable and massively replicatable systems, tactics and strategies in what the CDC is showing to be the toughest environment ever to do so.  And beyond that I've asked a few of my actual clients that I've helped over the last few months to come up on stage and share first hand what is working for them and why.  While they are on stage we are going to open it up to the entire audience to ask them any questions they want so you can walk away with real answers from real people just like you.
The world is changing…
More and more people are stuggling with fitness and fat loss. Time erosion is at an all time high and people are working harder than ever only to achieve the same (or in some cases LESS) results. And that's why I felt it necessary to tell you about how important Fitness and Fat Loss Summit is – because what I'm about to share with you could double and even triple the results you have today, it can take your fitness and fat loss to levels you've only dreamed of and it can finally remove all of the stress and frustrations of not getting results, once and for all. You think about and work at your fitness and fat loss all the time, but your result doesn't reflect how hard you're working. What's worse is that every few months a new obstacle comes up and it's hard to figure out how to deal with it. All this hard work along with life's demands can be really wearing on you… forcing you to make adjustments and try to get your results still which is just not happening even though you're working harder than ever. Something has to change. Because if it doesn't then you're going to burn out quickly and be left feeling empty in a life that you're so passionate about. But it's not all doom and gloom… See, there are people out there who are really making it happen. They do well… really well and they're changing their lives every day. They are the select group of people who are getting results, they're living their passion, and crushing their goals. They don't have a fitness and/or fat loss problem. They get results daily. They're looked at as leaders within their family and friends network. They have a balanced life between work and play. And they live with more vitality than most… more than what most doctors and other health professionals do. This select group of people are no different than you. You may have seen me talk about a few of them in my emails and on Facebook over the last 12 months. They're people from all different walks of life… all different ages and life circumstances. However, where they have a distinct advantage is they have learned the secret to building a fitness and fat loss lifestyle where they are not only achieving their fitness and fat loss dreams but the energy and vitality are carrying over into all aspects of life.  The people I'm referring to will be at Fitness and Fat Loss Summit and you will have full access to them.  I know you want amazing results, I know how frustrated you are just watching your life passing you by and not living how you want to live.  I know you're sick and tired of feeling like you barely have the energy to just make it through you're days and weeks.  I know you wish you just had a plan to follow to make getting you're fitness and fat loss results easy just like the people I've been talking about.  I'm talking about people like Jenny Flynn, Nicole Cleland, Kristie Sullivan, Dianna Gozalo-Arias, Steve and Julie Galicia, Erica and Cameron, Amanda Reiter, 84 year old Carol Cook and the list goes on…Because these people are doing it, you can too…And that is exactly why Fitness and Fat Loss Summit is happening.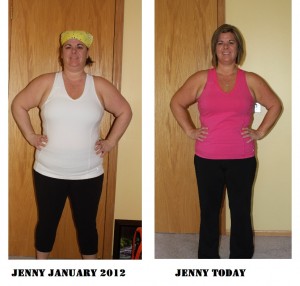 …my point is that there are literally thousands of people just like YOU who are living their life and incorporating very successful fitness and fat loss strategies and tactics because they did the one thing that separates them everyone else – they came to learn the information we are going to give to you at Fitness and Fat Loss Summit and then took action on it.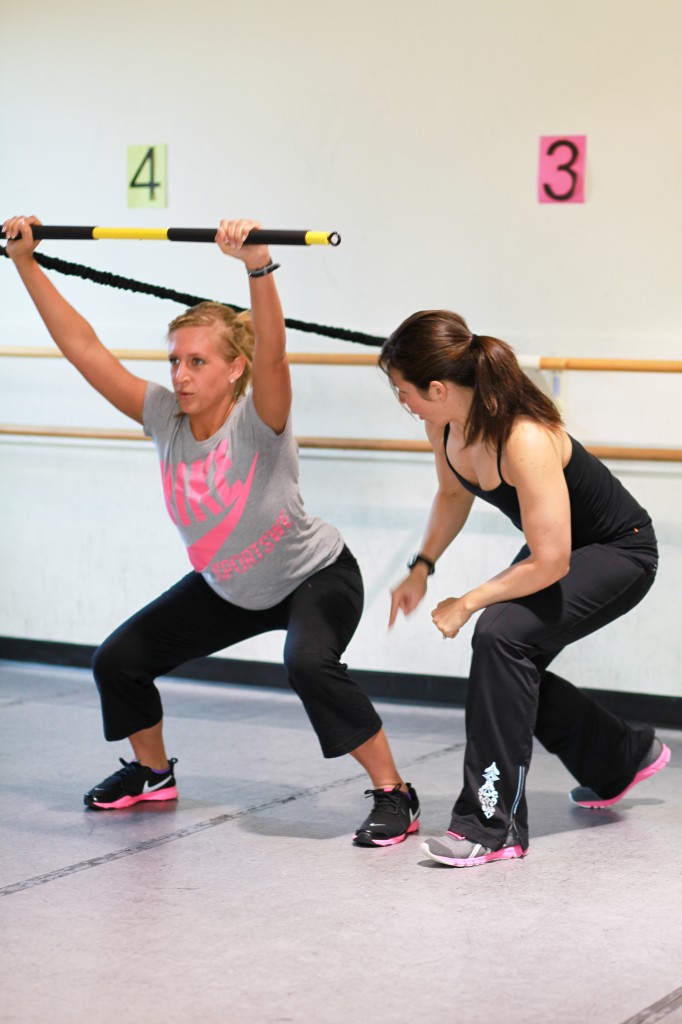 That's what made all the difference. Fitness and Fat Loss Summit is unlike any other fitness industry event or seminar. Fitness and Fat Loss Summit is the ONLY event dedicated to helping people like yourself lose weight, feel great, live with passion, gain more energy, and multiply your results in less time. This year I'm bringing together top pro's that are getting real results with real people right now and real people just like you that are getting results and I've asked them to share their tips, tactics, and strategies with you so that you can get the shortcuts to success without the stress and frustrations.
When is Fitness and Fat Loss Summit?  Fitness and Fat Loss Summit is Saturday, May 31st, 2014 starting at 10:00 a.m. and will end at 5:00 p.m.  There will be complimentary workouts at 7:30 and 8:30 a.m. and a networking event that evening (details given at the event).
What's the Investment to Attend THE Fitness and Fat Loss Event of the Year?
Typically information packed on day events like this command fees of $800.00 or even more…and I'm willing to wager they don't have nearly as many bona fide results getting speakers who actually make their money in the trenches running a real fitness and/or fat loss business.   But don't worry, your investment won't be anywhere near $800.00. You won't even pay $500.00 to learn first hand from these super achievers of the fitness and fat loss industry and soak in their best fitness and fat loss-building systems, tactics and strategies. I'm as serious about giving your fitness and fat loss a BIG boost in 2014 as you are…and for that reason I've set the bar about as low as I can set it and still cover my costs for putting on the event.  Your investment to attend this one-of-a-kind event devoted entirely to skyrocketing your fitness and fat loss success to the next level is just $99. And as if that's not enough, I'm even going to remove any reluctance you may have by placing all the risk to deliver as promised squarely on my shoulders.
Here is my "Double Your Results or Better" Money Back GUARANTEE: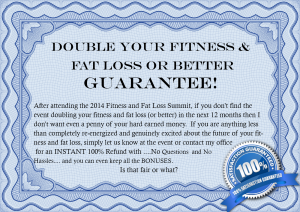 Price went up to $139.00 on May 16th.
***This event will sell out very quickly so claim your seat while you can.***
  P.S.  We are only selling 100 total seats and 37 are already taken.  CLAIM YOUR SEAT NOW