We are so proud of two of our members, Steve and Julie.  They made the commitment to our 28 Day Fat Loss Formula last month and saw amazing results and have changed their habits to make it a lifestyle.  If you want to be inspired by their dedication and work read below! And, if you want results like them check out the 28 Day Fat Loss formula to get registered for the next group!
28 Day Fat Loss Journal- Steve
My name is Steve Galicia. I have been coming to boot camp here in the Eden Prairie MN. location for about 27 weeks now. I started the program at a little over 200lb. After the first 4 weeks of boot camp I was down to like 195 – 198lb range but maintained that weight. I heard about the 28 Day Fat Loss Program through the emails we get sent to us with tips and recipes. I have always struggled to stay under 200lb. but never did a diet of any kind. Tried to stay away from it because so many fat lose programs just take you so far out of what is normal, that I just find it highly impossible to live a lifestyle that consists of eating boxed meals or powdered meal replacements. Last month I finally mustered up the courage to try the 28 day fat loss program for myself.  I mean why not, I have a wedding in a couple of months! Let's see how this goes!
My Fiancé and I both signed up for it and got things going. After reading the fine print and what the diet consisted of, I must admit I was a little nervous. And by a little nervous I meant A LOT nervous. Cutting off caffeine was huge for me. I have been drinking coffee every morning since as far back as I can remember, and going without it gave me headaches. But I had committed already and I was going to see it through.
Week 1 was torture for me. Caffeine withdrawals and the lack of sugar in my system were hitting me hard. (I forgot to mention that along with coffee every morning I also enjoyed a delicious pastry in the afternoon from our work cafeteria :o) )
For the first 3 to 4 days I just felt sluggish, slow, achy and in an incredibly bad mood. I emailed Altman fitness thinking something was wrong or perhaps they had secretly poisoned me, but it was just my body reacting to the lack of caffeine and sugar which it was accustomed to getting a daily dosage of. All this pain was rewarded with a surprise when I weighed myself that Sunday morning and noticed that in just the first week alone I lost 8lb. I stepped off the scale and went back on it like 3x before I believed what I was looking at.
Week 2 I felt like a new person. The withdrawals were gone, I felt more alive, and my workouts were going well. It was becoming easier to count the calories and prepare meals. It seemed easier for me at least to just go off of the meal plan provided by Altman.
I did notice that for this week my weight loss had halted. I lost 1lb (I did not feel completely bad since I moved that weekend and not having a kitchen while on a diet ….. can be incredibly stressful… So I ate out :o/  )
Week 3 I was a man on a mission. I made sure to stick to the meal plan. Worked out hard and could see the light at the end of the tunnel! I was 3 weeks in and needed one more week to go. The natural energy that was flowing through my body felt amazing and the man staring back at me in the mirror ….. Was pleasant to look at!! :o) I could start to notice the transformation and coworkers and friends were noticing too. Total weight loss on week 3 bumped right back up to a whooping 5lb
Week 4 THE FINAL WEEK! No carbs week. Day 1 of this week wasn't that bad. I still felt strong I felt good, had a good work out. On Day 2 when my body noticed that I was not having any carbs I started to get a little slow again! Slightly tired, but felt good during the work outs still. The introduction of healthy fats, fruits and almonds was like heaven!
Muscled through the 4th week and when I took those before and after pics! I couldn't believe I was the same person. I didn't even look this good when I was 18 and incredibly active.  I feel amazing and I finally have visible abs! I have wanted those for years!!  The biggest thing for me though is the knowledge I picked up about how to eat healthy. That is something that will stay with me forever! My biggest problem now is ……… I don't have any work pants that fit me anymore! Everything is big on me. My jeans, my belts and my dress shirts I was swimming in. Total weight loss on week 4 4lb
I lost a total of 18.4lb in 28 days. Incredible!
I have been 2 weeks off the program now. Eating healthy balanced meals with an indulgence here and there but still maintaining the weight.
Currently trying to complete a personal goal of losing 20lb and I'm 1lb away from that.
Thank You Altman Fitness! You guys are great, the staff is amazing and the support really helped me out especially when the times got tough!  And a HUGE THANK YOU to my fiancé Julie Kreimeyer for cooking my meals and keeping me sane !!!
JULIE
The 28 Day Fat Loss Program was challenging and rewarding at the same time. I have never been on a diet in my whole life, so drastically changing the way that I ate was completely new and very difficult for me the first week or so. The things that were the most difficult for me was eating my full portions, getting used to the meals (no salt!) and most importantly….all of the cooking!!! But, I have to say that as the program slowly went by day after day, I found that I didn't crave sweets anymore and I was losing weight faster than I ever had before. Looking in the mirror and seeing the changes in my body began to overcome the challenges that I had had the day before.
Many people say that the program is supposed to help you sleep better and give you more energy. I would say that while the program helped me sleep, it didn't really give me an energy boost. I actually found myself more tired than before. However, one thing that did give me an energy boost was working out. Working out with the boot camp class in the mornings (no matter how  tired I was) left me feeling awake and ready for the day. If I skipped a day of working out, I felt sluggish and tired. I think that while the diet is really important in the program, the exercise was equally important for me. Working out got me through my bad moods, the tiredness, and ultimately was (is) a great stress reliever. I think that stress can ruin any diet plan if you don't find a way to combat it. Working out helped and is helping me get through the stress associated with the fact that I am graduating college in about 2 weeks, have a wedding in less than 3 months, and am currently looking for a job!
The 28 day program actually changed my eating habits after the program was done. After finishing it, my fiancé and I pay more attention to the sodium content of food, we use way more vegetables in our cooking, and we eat out much less than we used to. The program helped me look at food differently and also that eating smaller meals throughout the day is much better for your metabolism than eating just 3 large meals. It has been about 3 weeks since I got done with the program and I have stabilized my weight at the weight I ended with that last day of the program. While I still plan to lose a little bit more weight before the big wedding day, the program gave me an awesome head start by having lost 11lbs in only 28 days!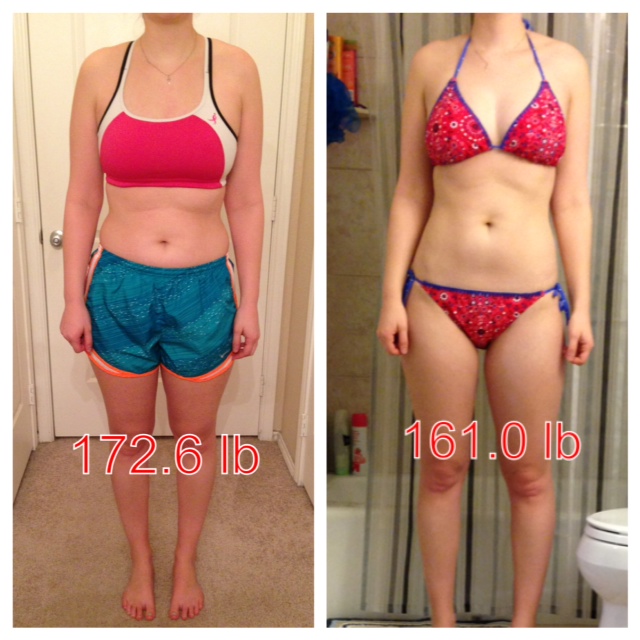 Just a quick little note, I would highly recommend Altman Fitness and the 28 Day program to anyone trying to lose weight. My fiancé Steve and I could not have lost all of this weight without them. All of the support from Kelly and Jay Altman and Jenny Flynn has kept us inspired to get more fit and healthy! Also, when I first started going to Altman, I was over 20lbs heavier than I am today. Altman has helped me reach my goals with their knowledge, awesome workouts, and 28 Day Fat Loss Program.