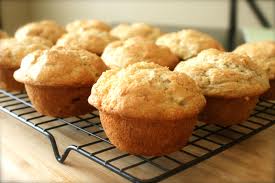 This recipe takes a classic baking favorite and converts into a gluten free, processed sugar free, grain free, dairy free dessert that actually tastes great!
Ingredients:
3 eggs
3 ripe bananas
1 cup pitted dates
1 teaspoon apple cider vinegar
½ cup melted coconut oil
1 ½ cups shredded carrots
1 Tablespoon cinnamon
1 teaspoon sea salt
2 teaspoons baking soda
2 cups almond flour
¾ cup sliced almonds
Instructions:
In a large food processor or blender, combine eggs, dates and bananas.  Blend for a few seconds.  Add apple cider vinegar, coconut oil, and shredded carrots.  Blend a few more seconds.  Add cinnamon, sea salt, baking soda and 1 cup of the flour.  Blend until smooth.  Add 2nd cup of flour and blend once more.  Add sliced almonds and stir with a spoon or spatula just until mixed.  Spoon into a muffin tin and bake at 350 degrees for 25 minutes.
This makes approximately 14 muffins.
Your Fitness and Fat Loss Guy,
Jay