The first week of the new year is over.  How do you feel? Are you still pumped up and feeling like you can conquer the world, and every new goal you have for yourself this year?  Or, have you yet to really sit down and take the time to figure out what you want out of 2015?  As I mentioned in the previous post, I'm all about the new year- and making "resolutions".  However, if "resolutions" to you are just things that fall by the wayside come mid-February then please lets stop calling them "resolutions" and call them "Goals".  What are your GOALS for 2015 and what EXACTLY is the way you are going to achieve them.  That is what you need to figure out for yourself and if you haven't done it yet…..what are you waiting for?  If getting moving, improving your health and fitness are part of your goals then I would love for you to join our new group on Facebook- the Altman Fitness 360 Challenge. The first week has been great with people posting and I'm promising healthy recipe ideas, workouts and even a video each week so you can follow along and get inspired to move around. My goal is to get everyone to commit to 10 minutes. Once you do that- it's up to you how your body is feeling if you keep going or let your body rest.  I was feeling a little bit sore today from a big workout yesterday, but wanted to create this video for you to show you a circuit you can do at home with no equipment. See how many rounds you can do in 10 minutes. You can start from the top and then for the 2nd round you can start at the bottom and work your way up.
It's fast moving and is guaranteed to get your heart rateup! check it out here : 
As you move into Week #2- jot down just 1-2 easy and attainable goals.
Here are some ideas:
Find (check out the recipe section of our blog!) and make a new breakfast item
Find and make a healthy dinner option
Drink 1/2 your body weight in oz. of water every single day (and/or- drink nothing BUT water all week)
Eliminate ALL sugar (yes, including fruit) for the entire week to get past your sugar cravings
Get 7-8 hours of sleep every night this next week- NO exception
Get moving for 10 min every single day, but 4 days out of the 7 aim for 30-45 minutes of weight bearing interval style training.
Can you commit to just one of those? How about 2? or 3, 4 ,5???
I've gotta admit, I'm not naturally a very good cook. However, I'm super passionate about healthy food and getting my entire family to eat it too. So- I need to spend some time in the kitchen. We all get into our food "ruts" and do the same old thing which can get boring. Last weekend I made the goal to get more creative in the kitchen and follow a recipe from a blog I follow. It was amazing and the best part is we had TONS of leftovers so it's made the past couple days lunches really easy. Here you go- and a little picture of our version 🙂
Spicy Thai Beef Stew  (original recipe from Against All Grain- made a few tweaks per Jay Altman's taste buds)
2 TBSP coconut oil
3 lbs of beef stew meat with fat trimmed
½ medium onion, diced
2 cloves minced garlic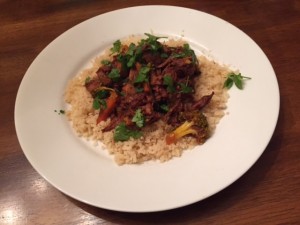 2 tsp minced ginger
1 can full fat coconut milk
6 oz can tomato paste
½ cup thai red curry paste
1 TBSP Fish Sauce
2 tsp fresh lime juice
2 tsp sea salt
12 drops liquid stevia (or 1 packet)
2 Kefir Lime leaves
2 cups broccoli
2 cups julienned carrots
Fresh cilantro for garnish
1. Heat 1 tbsp of the coconut oil in a large skillet over med-high heat. Take about 1/3 of the meat and start to brown it on each side. Once browned, remove the beef and place in the slow cooker and do the same to each of the other 3rd's of the beef.
2. After all beef is browned (not fully cooked) and in the crockpot, wipe out the skillet if there is water and add the other 1 TBSP of coconut oil. Sauté the onion, garlic and ginger over medium-high heat for 5 min.
3. Pour in the coconut milk, tomato paste, curry paste, fish sauce, lime juice and salt and stir continuously to release any bits of the onion and garlic from the pan.
4. Once stirred and incorporated, pour the mixture over the beef in the slow cooker.
5. At this point, add in your 2 kefir lime leaves and the 12 drops liquid stevia
6. Cook on high for 5 hours or low for 8. Add in the carrots and broccoli for the last ½ hour if on high or the last hour for low.
7. Serve garnished with cilantro
Cauliflower "Rice"
1 large head of organic cauliflower
1 ½ Tbsp of ghee (clarified butter) or coconut oil
2 tsp sesame oil
½ cup diced onion
1 clove of garlic
1 cup water
Salt (optional) if using with the stew you will not need additional salt
1. In a food processor with the grating attachment, cut the cauliflower and process into "rice".
2. Melt the ghee or oil in a large skillet over medium heat. Add onion and garlic and sauté until onion is soft
3. Add the cauliflower and sauté for a few minutes
4. Add the water and turn the heat up to a med-high and cook for roughly 15-20 min until the cauliflower is tender
Now go out there and be the best YOU this week!
Kelly