Every month we have a new group of people that go through our 28 Day Fat Loss Formula. Now, anyone that sticks with the plan will learn a lot about nutrition, they will lose weight, and they will feel better. However, there are always a couple people each month that we watch absolutely CRUSH their goal and don't let anything get in their way. These are inspiring stories and we asked one of our members to share her journey with you. Life isn't always going to take you on an easy path, and getting what you really want can take some hard work sometimes. It's at times like these that listening to yourself, your inner-most wants and desires, become so important.  And then you just need to make up your mind and take action! Below is Tammy's account of her journey and her quest for that "Bikini Body"!
"Are you a good listener?  I think I am.  I listen to my kids, to my friends, to my boss and try to be attentive to their thoughts and needs.  "Can you help me with my homework", or "I am not sure what I should do about a co-worker, what do you think", and I would dispense advice and sage wisdom (from my own little world!) accordingly.  But when it came to listening to me with chatter like "It's OK, one more cookie won't hurt", "You're already thin, why do you need to lose weight", "What does it matter…" or "Are you happy?"  I suddenly turned deaf ending the dispensing of advice and wisdom.  And that's a trap for a continuous stream of one sided conversations.  Those conversations are painful and never ending when there is no one to tell you differently.
I do not like being uncomfortable, and will skirt around the edges of it to avoid it at all costs.  Now I am 15 pounds heavier, not wanting to do anything but stuff myself with Angie's Kettle Corn or whatever I could get my hands on to drown out that conversation.  My body is talking, and I am not listening.  Then my body did the ultimate throw down, it fought back and it fought hard.  For one year, I was so sick with gastro-intestinal issues that no one could figure out.  Not knowing when or where I would have an "episode", I was scared to leave the house, go shopping, or go to work.  It took prepping for a colonoscopy, and having to start fasting for the test, that I noticed that I was starting to feel better.  Was I listening?  My body was talking again and this time I was all ears.
To make a long story short, having been cleared of any medical issue, my focus for healing turned towards food.  What I was eating was making me sick and I was ready to make the changes necessary to get on the right path.  I have discovered that I have food intolerances to:  Gluten (huge bad thing!! – nobody should eat anything with gluten), wheat, soy, dairy, shell fish, oats, peanuts (legumes) and a few others.  Thru a lot of trial and error, I have landed on a daily food plan that works for me, but it wasn't easy and it's not perfect.  I clung to bread, pasta, pizza, and beer because those were fun foods.  But anytime I faltered, I paid dearly.  I had to learn how to control the beast – my head that literally has a mind of its own.  I could justify anything, "It's Ok, just this one time" or my personal favorite – "Who's going to know?" and eat everything that was bad for me resulting in feeling horrible and feeling sorry for myself with a reply of "Who cares anyway?" –  a very dark place.  Finally I heard, "I do, stop".  And I did.  That's when something shifted.  You hear many people talk of digging deep and finding your focus.  I've done it before – giving birth to 2 girls without drugs, running my last marathon when I was so sick – but I thought those were once in a lifetime events.  But that's not all it has to be, you can have that same drive and dedication to everyday activities.  It was time to apply that to my eating.  Discipline is very rewarding knowing that you can put your mind to anything once you have a goal.  And I needed a goal, something for my brain to wrestle with rather than the self-destructing path it had been on.  I decided that I wanted to wear a bikini before I turn 50 in a couple of years and was ready to commit to a program to get me there.  I wanted to learn more about what I can do fine tune my personal food plan, and I choose the 28 day fat loss program.  I learned, and I will never stop learning when it comes to my nutrition, was I also have an issue with the way my body processes sugar.  For as careful as I am, that was the missing link.  In those 28 days, I lost 13 pounds and almost 7 inches.  The results speak for themselves, and I thank Jay and Kelly for their support to make that accomplishment!
My body is where it's supposed to be, I can hear the huge sigh of relief and my head is finally saying "Huh, so this is what it's like?  What took you so long?"          "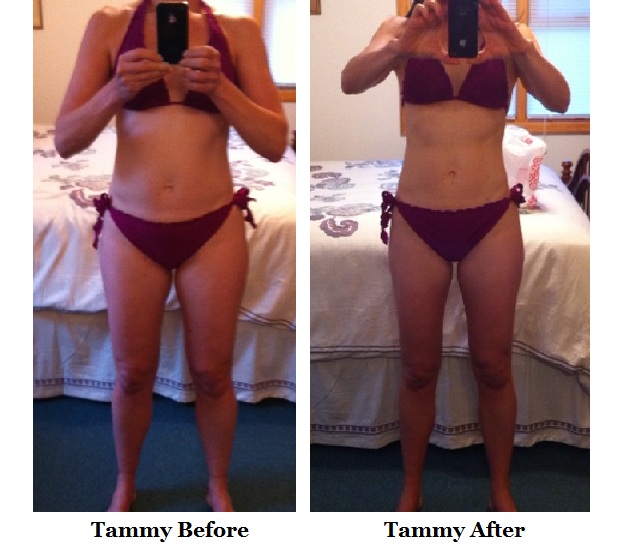 Congrats to Tammy for making each day a new day to focus on her goal of living a strong, healthy life.  I must say she looks AMAZING in that bikini and we are so proud of her for all the hard work she puts in, day after day!
With the right mindset- you can do ANYTHING!