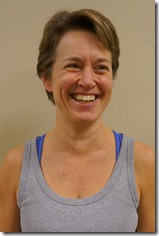 Get Fit. Make a Difference!
We are passionate about fitness, we are passionate about health, and we believe in the power of family, love, support, community and that little things can make a big difference.
With this email we would like to offer you the gift of better fitness and health in exchange for a donation to help a cause very close to one of our member's hearts.
Pictured on the right is Barb Brandt and we are privileged to have her as a member. She is an inspiration to all that know her. She comes each day to Boot Camp with a smile on her face and a commitment to get stronger. For Barb she is motivated by the reality that her husband, Michael, was diagnosed with ALS (Lou Gehrig's disease) last April. You may have read the Brandt's story (on the front page!) in the April 19th edition of the Eden Prairie News. On May 19th, Barb and her family will participate in the ALS Bike Trek Minnesota which raises money to benefit the ALS Therapy Development Institute. At present there is no cure, nor is there a drug that dramatically slows ALS. That is why raising money, and awareness for this foundation is so important.
How we would like to help: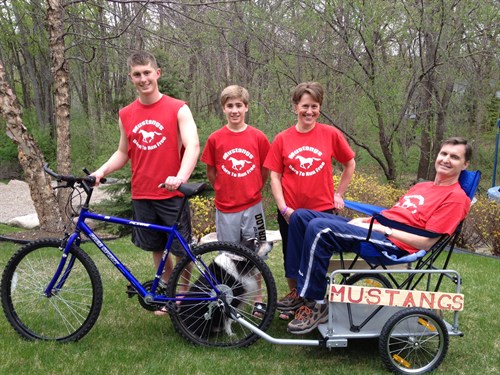 We are offering a one month membership to any one of our Altman Fitness Boot Camps for for only $99 ( a $249 value!) and 100% of the proceeds will be donated to The Brandt's "Team Mustang"
please specify which time and location you would like to attend*
(for more info on their story or to donate on your own without the Boot Camp offer visit their website at https://alsmn.als.net/mustangs )
We are excited to help them far exceed their amazing goal of raising over $50,000 for ALS research and awareness.
To sign up for the month of Boot Camp:
Thank you for your support and feel free to contact us with any questions.
Jay and Kelly Altman
612-454-6409
*1 month bootcamp voucher is valid to use anytime until 9/30/12
Here is more information from The Brandt's and "Team Mustang" And how to donate if you want to do it on your own without the 1 month of boot Camp:
From The Brandt's:
Dear Friends,
Much has happened since we launched our 2012 campaign a few weeks ago. We have lots of riders already signed up, with more who have committed or expressed interest. Riders are training, some realizing that it's a good thing they got an early start….! Erik & Joe have built a special bike trailer in which Michael will be pulled by Erik (see a photo of this masterpiece of engineering at our TEAM MUSTANGS website https://alsmn.als.net/mustangs ). We have Augie Nieto, founder of Augie's Quest, promoting our team on Facebook and Twitter! We will have press coverage in the Twin Cities in the coming weeks promoting the event and our team. And…….most importantly…….
WE ARE NEARLY 2/3 OF THE WAY TO OUR FUNDRAISING GOAL!
The response, support and generosity have been incredible. We are honored that so many of you have joined us in the fight against ALS! Thank you!
Visit our TEAM MUSTANGS website at https://alsmn.als.net/mustangs to read more about our progress, see updated photos, register to ride, DONATE, see who's riding and the Honor Roll of contributors!
We still have a way to go to meet our fundraising goal, so please help us spread the word to everyone you can—as soon as you can—and help us fight this terrible disease!
Let's Roll! GO MUSTANGS!
Thanks,
Barb