Low Carb Pumpkin Muffins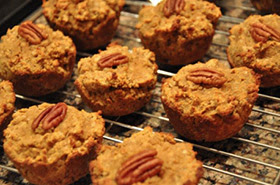 Here's a muffin that isn't sugary, starchy and devoid of nutrients – like the muffins at your favorite coffee shop. These muffins are rich in beta-carotene and contain half an egg's worth of high quality protein. The delicately sweet flavor will satisfy and have you coming back for more. Servings: 12
Here's what you need…
1/2 cup coconut flour (find at natural foods store)
2 teaspoons ground cinnamon
1/2 teaspoon ground nutmeg
1/4 teaspoon ground cloves
1/2 teaspoon baking soda
1/2 teaspoon salt
1/2 cup canned pureed pumpkin
6 eggs, beaten
3 Tablespoon coconut oil, melted
1/3 cup honey
1 teaspoon vanilla extract
12 pecans for topping
Preheat oven to 400 degrees F. Oil muffin pans.
In a medium bowl, combine the coconut flour, spices, baking soda and salt.
In another bowl, place the pumpkin puree then add the eggs one at a time, mixing well after each addition. Add melted coconut, honey and vanilla and mix until well combined.
Add the flour mixture to the pumpkin mixture, blend with a whisk until most lumps have disappeared.
Spoon into prepared muffin pan, filling each muffin 2/3 full. Bake for 18-20 minutes or until golden.
Place on wire rack to cool.
Nutritional Analysis: One serving equals: 127 calories, 7g fat, 230mg sodium, 11.7g carbohydrate, 3g fiber, and 5g protein.
Breakfast Cookies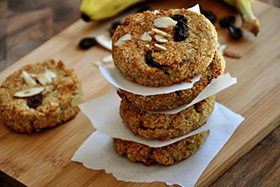 Yes, these cookies make an acceptable, wholesome breakfast! You'll notice that there is zero sugar added to these cookies – the sweetness comes from banana and applesauce. Feel free to add a large scoop of vanilla protein powder to the dough, to increase the protein content of each cookie. While it does take some time to make a batch of these breakfast cookies, you'll have instant breakfasts for days to come afterwards. Servings: 20
Here's what you need…
3 ripe bananas, mashed
1/2 cup unsweetened applesauce
2 Tablespoons coconut oil
1/3 cup golden raisins
1 teaspoon vanilla extract
1 teaspoon apple cider vinegar
1/3 cup coconut flour
1 teaspoon ground cinnamon
1 teaspoon baking soda
1/4 teaspoon sea salt
Optional, scoop of vanilla protein powder
1/2 cup unsweetened shredded coconut
1/4 cup sliced almonds
1/4 cup unsweetened, dried berries
Preheat the oven to 350 degrees F. Line a baking sheet with parchment paper.
In a food processor, combine the bananas, applesauce, coconut oil, raisins, vanilla extract and vinegar. Pulse until smooth.
In a medium bowl combine the coconut flour, cinnamon, baking soda, salt, and protein powder. Add to the food processor and pulse until combined. Add the coconut flakes, almonds and dried berries. Pulse briefly until just incorporated.
Use an ice cream scooper to place the dough 2 inches apart on the prepared baking sheet. Flatten slightly. Bake for 25-35 minutes, until golden and baked through.
Allow to cool for 5 minutes on the pan, then transfer to a cooling rack. Store in an airtight container in the fridge.
Nutritional Analysis: One serving equals: 86 calories, 3g fat, 61mg sodium, 10g carbohydrate, 2g fiber, and 5g protein.
Southwest Chicken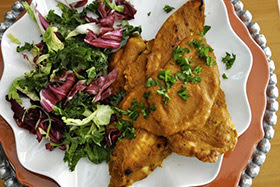 Serve this flavorful Southwest Chicken with a heaping side of dark leafy greens. This is the epitome of a meal focused on protein and fiber. It's meals like this that will melt off body fat and improve your health and fitness. Enjoy! Servings: 6
Here's what you need…
2 lbs organic chicken breast
Dash of sea salt and black pepper
1 Tablespoon coconut oil
1 small yellow onion, chopped
1 tomato, seeded and diced
2 Tablespoon chili in adobo sauce
1 Tablespoon chili powder
1 Tablespoon balsamic vinegar
1 teaspoon ground cumin
1/2 teaspoon sea salt
1/4 teaspoon ground cinnamon
Rinse the chicken breasts and pat dry. Butterfly cut the chicken, opening each breast up like a book. Sprinkle both sides with salt and pepper. Place the chicken in a baking pan and set aside in the fridge as you prepare the sauce.
Place the coconut oil in a skillet over medium heat. Add the chopped onion and sauté until soft, about 5 minutes. Add the remaining ingredients and continue to cook for about 10 minutes. Use a hand blender to puree the sauce until smooth.
Coat the chicken with half of the sauce and marinate for 30 minutes. Preheat the oven to 350 degrees F.
Cover the chicken with foil and bake chicken for 30 minutes in the preheated oven. Serve warm with a spoonful of the reserved sauce. Enjoy!
Nutritional Analysis: One serving equals: 304 calories, 17g fat, 336mg sodium, 5g carbohydrate, 1g fiber, and 18g protein.
Simple Fruit Dessert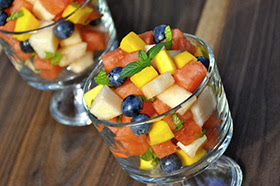 Eat too much refined sugar and you're headed for obesity and a host of diseases. So what should you do with that sweet tooth of yours? Turn to nature's candy: fresh fruit. This dessert is very simple, and oh-so-sweet. Use fresh, local, organic fruit for optimal taste and nutrition.
Servings: 4 
Here's what you need…
1 small watermelon, chopped
1 cantaloupe, seeded and chopped
1 mango, pitted and chopped
1 cup fresh blueberries
1/4 cup fresh mint, minced
Chop the fruit into small, uniform cubes. Combine the ingredients in a large bowl, then scoop into small cups. Enjoy!
Nutritional Analysis: One serving equals: 127 calories, 1g fat, 33mg sodium, 30g carbohydrate, 4g fiber, and 3g protein.