I am not a baker…. reason being if it's in the house, I will eat it!  So sometimes its just better not to have baked goods in the house.  But it's back to school time and we have been trying to figure out what to have as a quick easy snack between school and activities. My kids get tired of smoothies, bars, apples and cheese sticks so we have been on the hunt for a great snack. I think we found a WINNER! (and I don't have to feel like I have to have mega amounts of will power to stay away from this one because it fits right in with my plan as well!) 
I will often go on Pinterest or head to some of my favorite cook books and then tweak them a bit to fit our eating style… usually Gluten Free and lower in sugar. When we started putting this one together I wasn't quite so sure if the kids were going to like it, after all it has…… Chickpeas, yes I said Chickpeas as one of the main ingredients in it. Don't tell your kids, they will NEVER know!
We all really like the taste and texture of these muffins but I will say…. don't eat them warm out of the oven. Let them cool and store in a container and place in the fridge. Enjoy them when they are cold. YUMMM!
I plugged the ingredients into: sparkpeople.com And this is what it came up with per muffin….
Calories: 109 – Fiber: 3.2 g – Sugar: 8.2 – Protein: 7.6
Blueberry protein power muffin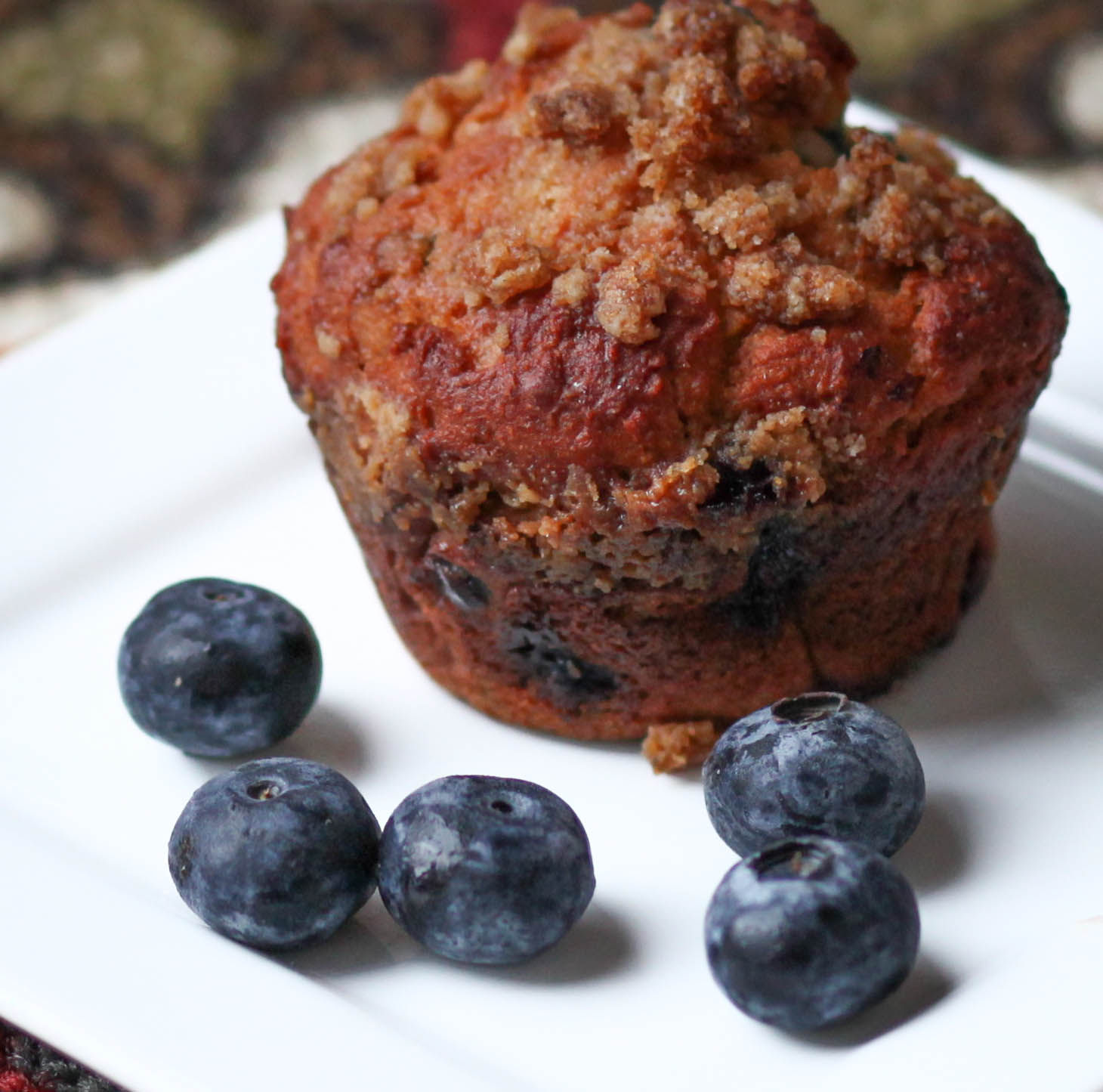 2/3 Cup Chickpeas, Rinsed and drained
1/2 cup plain greek yogurt
1/4 cup honey
1.5 Cups GF flour ( I use bob's red mill but you could use any)
1/2 cup  vanilla Paleo protein powder
1 tsp. baking powder
1 tsp. baking soda
1/4 unsweetened vanilla almond milk
2 egg whites
2 tsp. pure vanilla extract
1/4 cup coconut sugar
3/4 cup organic blueberries fresh or frozen.
For crumble topping:
2 TBL GF flour
2 TBL butter
2bTBL coconut sugar
Instructions:  Preheat the oven to 375 degrees.  Spray muffin cups with nonstick spray, I use coconut oil spray.
To make the muffins: Combine the chickpeas, greek yogurt, and honey in a large measuring cup.  Use a food processor or good blender to puree until smooth.
In a large bowl, add the flour, baking powder and baking soda and whisk to combine.  Add the blended chickpea mixture, almond milk, egg whites, vanilla, and sugar and stir to combine.
Fold in the blueberries.
Spoon batter into muffin cups, divide evenly among 12 cups.
Topping: Mix all ingredients together in a small bowl. crumble the mixture with your fingers and sprinkle on top of each muffin batter.
Bake for 25 min, or until a toothpick inserted into the center of the muffin comes out clean.
Makes 12 muffins!
We enjoy these muffins cold!