Blueberry Banana Protein Smoothie
Ingredients:
3/4 cup frozen blueberries
3 frozen bananas
1 cup organic milk
2 cups yogurt
3 tsp vanlla
1 TBS honey
Ice
love 🙂
Put all ingredients into the blender and blend until smooth. Taste and adjust for sweetness. Pour into a glass and enjoy!

612-454-6409
office@altmanfitness.com
---
Most people wait around for motivation to strike them like a lightning bolt.
Well, I've got news: motivation isn't something that happens to you—it's something that you create for yourself. If you don't feel motivated to achieve your goals, it is likely due to mental roadblocks that hold you hostage.
Read the following 21 Mindset Tips and prepare your mind for success.
Success comes first in the mind, so visualize yourself accomplishing your goals.
Remember, you are the only person who can hold you back.
Forgive yourself and love yourself despite past failures.
Decide what is important in your life and focus on that.
Conquer each negative thought the moment it enters your mind, when it is weakest.
Give up the idea that things won't go right unless you worry about them.
If you bring the body of your dreams to the point of resolve, then you'll soon be living in it.
Look towards your future. If you believe the best is yet to come then it will be.
You become what you think about most.
The margin between success and failure is very small and easily bridged by determination.
Start your day by accomplishing your hardest task first.
Set small attainable goals, rather than one monumental goal.
Convince yourself that exercise is fun, and it will be.
Know your big reason why.
Create a motivating play list of songs to use as the sound track to your workout sessions.
Every decision you make leads you either closer toward achieving your goal or farther from it.
If you think you're a fat person, then you'll stay fat.
If you think you're fit, then you soon will be.
Once you've set your goal, your attitude either pushes you toward accomplishment or failure.
If you don't know exactly where you want to go, you will likely end up someplace else.
You can have the body of your dreams, but first you must give up the belief that you can't.
You can only have two things in life: excuses or results.
Your Fitness and Fat Loss Guy,
Jay Altman
office@altmanfitness.com
612.454.6409
---
---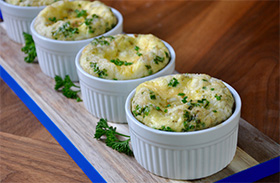 Smoked Salmon Mini Frittatas
Mini frittatas are a fantastic, high protein meal that is quick to whip up and throw into the oven. This recipe calls for smoked salmon to be whisked into the egg mixture, however feel free to use any cooked meat that you have on hand, as well as any chopped veggies you might have on hand. Enjoy for breakfast, lunch or dinner!
Servings: 6
Here's what you need…
1 Tablespoon olive oil
¼ cup diced shallots
½ teaspoon sea salt
⅛teaspoon black pepper
4 oz smoked salmon, cut into ¼ inch pieces
6 eggs
8 egg whites
¼ cup coconut cream or Greek yogurt
2 Tablespoons minced chives, divided
Instructions:
Preheat the oven to 325 degrees F. Lightly grease 6 (8oz) ramekins with olive oil and place on a rimmed baking sheet.
In a medium skillet add the olive oil, shallots, sea salt and black pepper over medium heat for 4 minutes. Add the smoked salmon and cook for 2 minutes. Remove from heat.
Divide the salmon mixture between the 6 ramekins.
In a large bowl combine the eggs, egg whites, coconut cream and half of the chives. Whisk until fully blended. Divide the egg mixture between the 6 ramekins.
Bake for 35 minutes, or until fully set. Garnish with the remaining chives. Enjoy!
Nutritional Analysis: One serving equals: 156 calories, 10g fat, 642mg sodium, 2g carbohydrate, 1g fiber, and 15g protein
Frozen Dessert Bark
It's important to have go-to healthy desserts to turn to when your sweet tooth strikes. Treats like this Frozen Dessert Bark will keep you from making regrettable food choices even in the face of ice cream cravings. Enjoy this sweet treat without guilt!
Servings: 6
Here's what you need…
2 cups unsweetened, Greek yogurt
1 teaspoon honey
10 drops liquid stevia
1/8 teaspoon almond extract
3 Tablespoons stevia-sweetened mini chocolate chips, divided
5 fresh strawberries, halved and sliced
2 Tablespoons unsweetened coconut flakes
Instructions:
Find a tray that fits in your freezer and line it with parchment paper.
In a medium bowl mix the yogurt, honey, stevia, almond extract and 1 Tablespoon of the chocolate chips.
Spread the mixture over the prepared pan to ½ inch thick. Sprinkle with the sliced strawberries, coconut flakes and remaining chocolate chips. Place in the freezer for 3 hours, until completely frozen.
Remove from the freezer and use a knife to break the dessert bark into pieces. Store in an airtight bag in the freezer. Enjoy!
Nutritional Analysis: One serving equals: 87 calories, 3g fat, 25mg sodium, 7g carbohydrate, 1g fiber, and 8g protein
Kale & Tomato Frittata (Option 1)
Here's a quick vegetarian stir-fry recipe that's perfect for a fiber-filled, meatless meal. There's no need to serve this stir-fry over a pile of traditional rice – simply add extra veggies or shredded cauliflower. Enjoy!
Servings: 4
Here's what you need…
1 (12oz) package extra-firm tofu, drained and cut into ½ inch cubes
1 Tablespoon coconut flour
¼ cup finely chopped peanuts, or almonds
1 Tablespoon sesame seeds
1 teaspoon crushed fresh ginger
pinch of crushed red pepper
1 Tablespoon olive oil
1 (16oz) bag frozen stir-fry vegetables, thawed
½ cup stir-fry sauce
2 scallions, thinly sliced
Instructions:
Lightly coat the cubed tofu with coconut flour. In a medium bowl, combine 2 Tablespoons of the peanuts, the sesame seeds, ginger and red pepper. Add the tofu and toss gently.
Heat the olive oil in a large skillet over high heat. Add the tofu mixture and cook for 4 minutes, stirring gently, until the sesame seeds are toasted and the tofu begins to turn golden.
Remove the tofu from the skillet – set aside. Add the frozen vegetables and cook, stirring often for 4 minutes, until heated through. Add the stir-fry sauce and cook until the mixture is bubbly. Mix in the tofu. Top with the remaining peanuts and sliced scallions. Serve hot. Enjoy!
Nutritional Analysis: One serving equals: 229 calories, 9g fat, 490mg sodium, 16g carbohydrate, 5g fiber, and 13g protein
Kale & Tomato Frittata (Option 2)
If you haven't yet added frittatas to your dinner rotation then here's the perfect recipe to start with. While this recipe calls for kale and tomatoes, frittatas can be made with whatever vegetables and meat you have on hand, simply chopped and thrown in to the egg mixture. It's a great way to eat low carb and high protein. Enjoy!
Servings: 6
Here's what you need…
6 eggs
4 egg whites
¾ teaspoon sea salt
½ teaspoon black pepper
3 Tablespoons nutritional yeast
½ teaspoon dried oregano
1 teaspoon olive oil
2 cups kale, destemmed and chopped
1 cup cherry tomatoes, halved
Instructions:
Preheat the oven to 375 degrees F.
In a large bowl whisk the eggs, egg whites, sea salt, black pepper, nutritional yeast and oregano.
Coat an 8-inch oven-safe skillet with the olive oil. Place over medium heat and add the kale and tomatoes. Cook for 4 minutes, until soft. Swirl in the egg mixture then remove from heat.
Transfer the skillet to the oven and bake until set, about 20 minutes. Slice into wedges and serve. Enjoy!
Nutritional Analysis: One serving equals: 116 calories, 5g fat, 323mg sodium, 6g carbohydrate, 2g fiber, and 12g protein
---
---
---
---